48:40
Followers
Yashwanth Nelapati and Marty Weiner share lessons learned growing Pinterest: sharding MySQL, caching, server management, all on Amazon EC2.
51:56
Followers
Ori Herrnstadt introduces the Akiban database which solves the problem of joins and combines the best of relational and document databases.
34:19
Followers
Chris Haddad discusses cloud computing, PaaS, multi-tenancy, cloud ecosystems, cloud aware APIs from the perspective and the benefits it can provide to the business.
41:57
Followers
Neha Narula provides advice on choosing a data store for a web applications and executing distributed queries.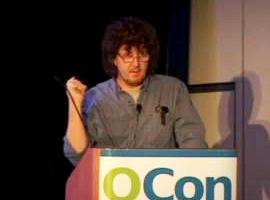 48:30
Followers
Rich Hickey deconstructs the monolithic database into separate services, transactions, storage, query, combining them with a data model based on atomic facts to provide new capabilities and tradeoffs.
45:35
Followers
Zardosht Kasheff suggest using 3 rules for indexing SQL databases: Retrieve less data, Avoid point queries, and Avoid sorting.
01:01:30
Followers
Rich Hickey introduces Datomic, including architectural and implementation details.
59:56
Followers
Rich Hickey discusses the complexity introduced by a database into a system, and a way to deal with it by using Datomic. He also discusses immutability, epochal time, and persistent data structures.
56:51
Followers
Robert Winch explains how to secure a multi-tenant application with Spring Security and how to enable OAuth 2.
54:41
Followers
Rich Hickey discusses the design decisions made for Datomic, a database for JVM languages: what problems they were trying to solve with it, the solutions chosen, and their implementations.
01:07:04
Followers
Pramod Sadalage discuses several patterns in database changes related to Architecture, Structure, Data Quality, Referential Integrity, Database Code, along with associated practices.

57:56
Followers
Justin Dearing introduces MongoDB, and shows how to interact with Mono via the official 10gen driver. Techniques for handling business logic in application code, such as LINQ are discussed.