55:36
Development
Development
Follow
412 Followers
Dusty Burwell discusses about the negative effects of developing software and the potential problems it creates.
52:04
Development
Development
Follow
412 Followers
Kevlin Henney examines some examples of code that are interesting because of historical significance, profound concepts, impressive technique, exemplary style or just sheer geekiness.
50:45
Development
Development
Follow
412 Followers
Jason McCreary discusses how a number of books from The Reading List - Implementation Patterns, Refactoring, Design Patterns, The Pragmatic Programmer - helped him with becoming a software engineer.
01:01:24
Development
Development
Follow
412 Followers
Jim Christopher discusses the health problems developers may encounter during their long work hours sitting at a desk.
35:13
HTML5
HTML5
Follow
50 Followers
Laurent Bossavit provides some suggestions on how to bring the fun back into programming by developing new skills such as leprechaun hunting and brain debugging.
44:29
Followers
Rich Smith discusses the progressive approaches taken by the Etsy security team to provide security while not destroying the freedoms of the Etsy engineering culture that are loved so much.
01:06:38
Culture & Methods
Culture & Methods
Follow
440 Followers
Alison Lloyd examines some less-than-stellar occurrences in non-software fields, drawing out some ideas that she hopes will make software development a little less painful.
Followers
Trisha Gee and Todd Montgomery attack the technology industry's sacred cows by exposing the motivations that hide behind them.
59:51
Followers
Pete Goodliffe keynotes on what it takes to become a better programmer, discussing tools for reviewing the personal skillset and techniques to help one "become a better programmer".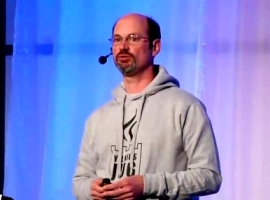 53:17
Followers
Randy Shoup discusses several important aspects of engineering cultures: hiring and retention, ownership and collaboration, quality and discipline, and learning and experimentation.
56:06
Followers
Garrett Smith introduces Drunken Stumble, a development method in two stages: a lean, which represents the goal of the programmer or team, and a stumble, which is a series of automatic "next steps".
42:11
Followers
Mike Pearce tells the story of how MOO manages to keep a fresh, startup-like culture that fosters innovation and values collaboration, while still delivering products and looking after its staff.