The importance of information radiators and informative workspace is unquestioned in Agile. Scrum and XP have enough visual indicators like whiteboards, flip charts, burndown charts, build status lamps etc. so that the information is highlighted as soon as it is gathered for easy consumption.
Michael Hunger and Takeshi Kakeda take this idea a bit further by using Lego blocks to track time spent on various projects and bug tracking. According to them it is both effective and fun.
Michael Hunger discovered the Lego way of time tracking when he was trying to find a solution for visually depicting and planning the time spent on various projects in a week. Michael represented each column on the base as a ruler on which he could stack the hours. He represented each hour as an aggregation of 4 studs of Lego, each stud representing quarter of an hour. So if the first hour was spent on 2 projects then it would have 2 studs of 2 colors on the first row. Each project is represented with a different color.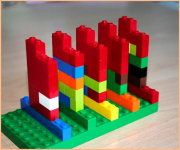 On similar lines Takeshi Kakeda presented about the use of Lego blocks in doing effective bug tracking at Agile 2008.The bugs were represented as Lego blocks on the board with priority being represented horizontally, dependency between bugs represented by stacking them vertically and the difficulty represented by the shape. Some of the benefits that Takeshi observed were that bugs were intuitively visible and mindset of the developers changed from negative to positive. Also, given the physical constraint of the board on which bugs could be placed new bugs could not be added unless the earlier ones were resolved, thus making it necessary to resolve existing bugs faster.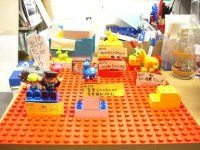 Thus use of Lego blocks has gone further from just being present in a kids play basket to being used as effective information radiator in the Agile environment.