A recently published VisionMobile study has measured the mobile landscape: the market, developer mindshare, preferred platforms, revenue, developer motivations and others.
VisionMobile carried out an online survey having over 6,000 respondents and 21 one-to-one interviews during April-May of this year in an attempt to evaluate the state of the mobile landscape, measuring the ecosystem, developer mindshare, revenue models and developer tools. The results were published in the Developer Economics Q3 2013: State of the Developer Nation report. The survey was translated in 10 languages and made available through regional agencies in 115 countries from all continents. Only developers using a mobile platform were considered. Following is a distilled version of the most interesting findings of the report.
The Market
For the first time, smartphones have surpassed feature phones in number of units shipped, the move being driven by cheap Android devices which took 75% of the smartphone market in Q1 2013, while iOS claimed 18%. Microsoft is still struggling with only 3% market share.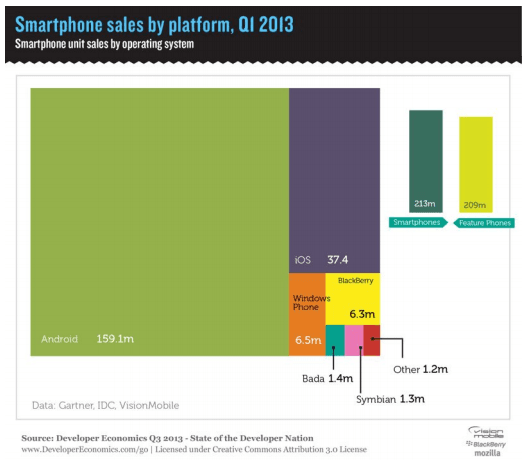 According to the report, it is "almost impossible for contenders [Windows, Blackberry, Bada, Symbian, etc.] to compete directly and displace" the Android-iOS duopoly, noting that even the strongest challenger has not managed to make a difference in spite of huge amounts of money and developer efforts invested:
Even Microsoft with an estimated over 5 billion dollars invested in Windows Phone has managed to secure a tiny 3% smartphones sales share in 2.5 years since the platform launched.
Instead of direct competition, the authors of the report suggest "asymmetric competition", challenging the "control points of modern ecosystems: app development, distribution and consumption of apps," remarking that Amazon and Facebook are doing exactly that. The three control points of a mobile ecosystem are Service Creation, Distribution and Consumption, as detailed in the following graphic: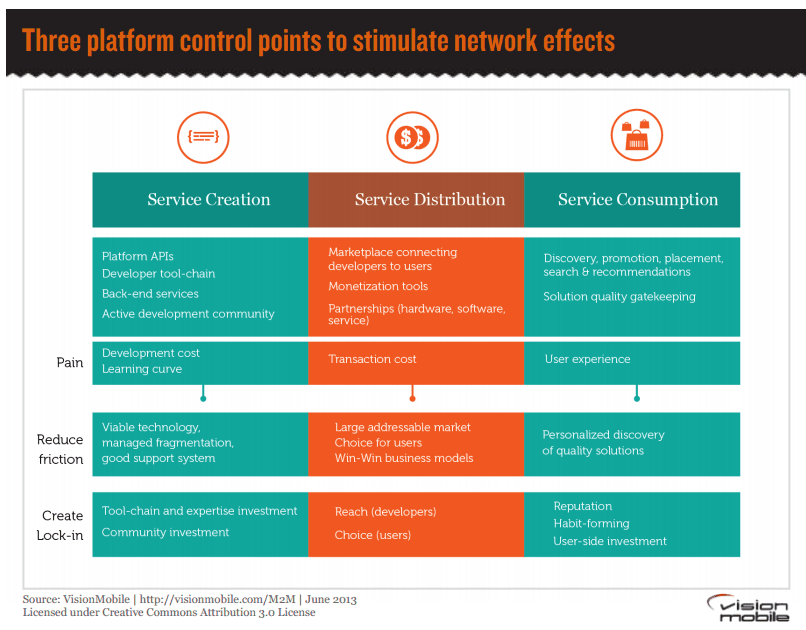 Mindshare
When it comes to developer mindshare, the report finds Android and iOS topping developers' preferences with 71% and 57%, in slight decline compared to 2012 when Android and iOS had 76% and respectively 66% mindshare. Interestingly enough, HTML5 is third with 52%, while Windows Phone is down to 21% from 37% in 2012.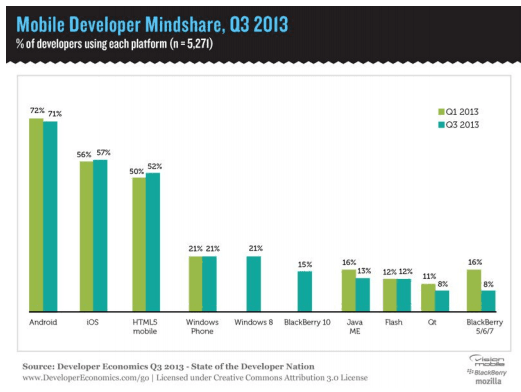 While in 2011 and 2012 Samsung sold more Bada devices than Windows phones, its developer mindshare plummeted, the respective OS not appearing in top 10. The authors consider that "Samsung's bada experiment is coming to an end," being an "interesting example of the network effects that dominate app ecosystems: user adoption does not suffice in the new app economy." This leads to the conclusion that
The positive feedback loop must include developers who benefit from an increased user base. If developers are left out of the loop, the necessary network effects will not kick-in and the platform will fail to grow.
Platforms
According to this survey, developers use 2.9 platforms on average and they choose between them based on revenue, reach, delivery speed, costs, app discovery and development environment. The preferred (primary) platforms are Android (34.4%), iOS (32.7) and HTML% (17.3).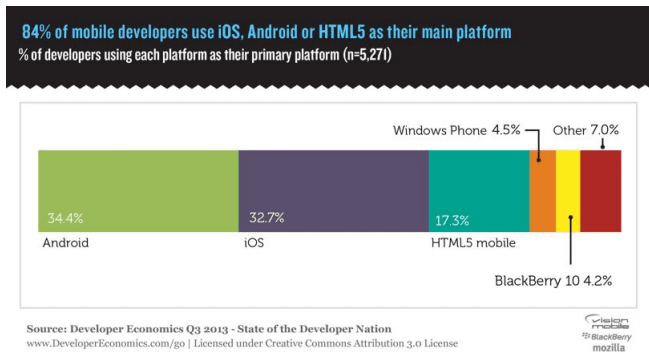 The primary platform is the one targeted first by new applications or new features. This platform is the one that receives most attention and investment. Android's lead is explained by the fact that new developers prefer this platform (40%) compared to iOS (21%). Also, game developers slightly favor iOS (37%) vs. Android (35%), while music and video devs like Android more (36% vs. 29%).
But in order to measure developers' loyalty the survey asked respondents to indicate the main platform they are using daily. It turns out that most developers prefer iOS for personal use, followed by Android and HTML5 as shown next: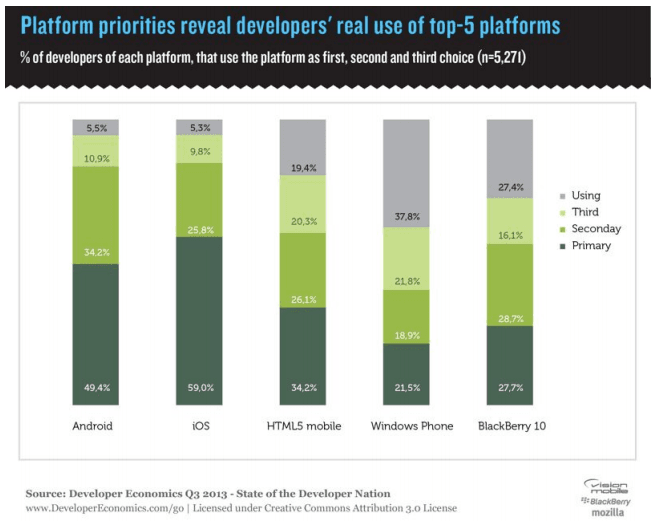 Revenue
When it comes to revenue, iOS leads with $5,200/developer/month followed by Android with $4,700 and Windows Phone with $3,600. The next chart indicates the monthly revenue per developer by primary platform, and includes "revenues beyond app store revenues such as contract development, advertising, e-commerce sales and licensing fees."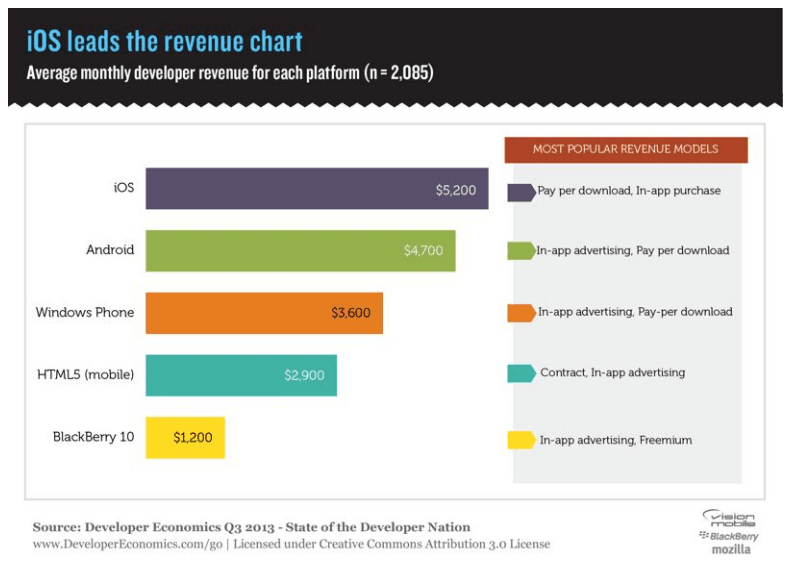 Developers
The survey used the Jobs–to-Be-Done methodology to categorize mobile developers, the authors discovering that there are 8 segments: Hobbyists, Explorers, Hunters, Guns for Hire, Product Extenders, Digital Content Publishers, Gold Seekers and Enterprise IT developers, their sizes, preferred platforms and revenue being depicted in the following chart: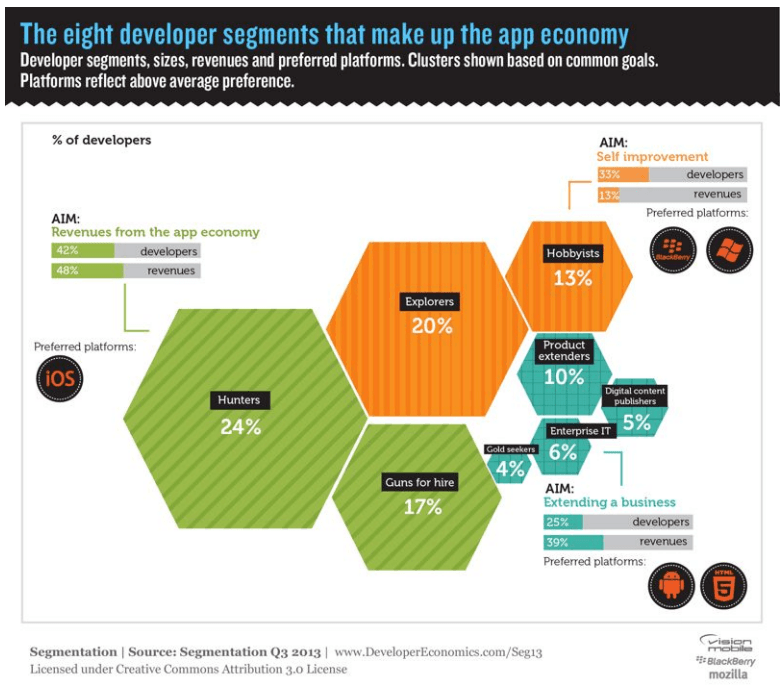 The Hunters and Guns for Hire -"those seeking revenues from the app economy" - represent 42% of the developer population and take 48% of the app economy revenues. They prefer iOS.
Explorers and Hobbyists – "those seeking to learn, have fun and self-improve" - represent 33% of the mobile developer population and take 13% of the app economy revenues. They prefer BlackBerry 10 and Windows Phone.
Product Extenders, Enterprise IT developers, Digital Content Publishers and Gold Seekers – "aiming at extending a business" – represent 29% of the developer population and take 39% of app economy revenues. They prefer Android and HTML5.
Regarding motivation, most developers are driven by personal fulfillment, followed by commercial success then community recognition as show below: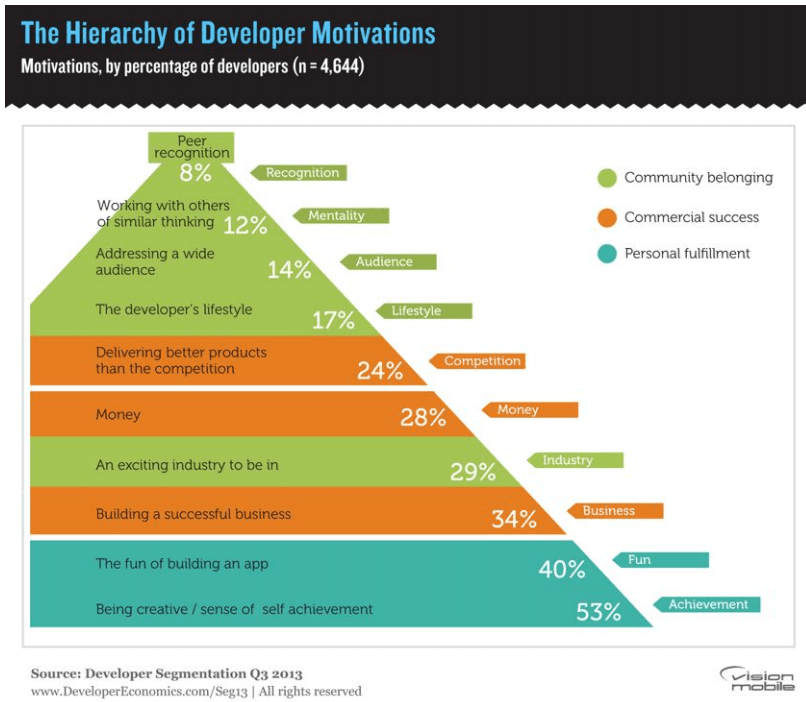 Other topics covered by the report and not mentioned here are: HTML5, tablets, application economy, revenue models, tools, developer intentshare, and others.