On December 24th, Microsoft released its latest Integration Roadmap. This is the first insight, customers and partners have had, into the collective roadmap of Microsoft integration technologies in several years.
Delivering integration technologies at Microsoft largely falls into the responsibility of the Azure App Service team. This team is responsible for Microsoft BizTalk Server, Host Integration Server, Azure Logic Apps, Azure API Apps and Azure API Management.
The Azure App Service team is also working with Azure Stack team in order to bring Integration Platform as a Service (IPaaS) capabilities, such as Logic Apps, from the public cloud into private clouds.
As part of the roadmap, customers and partners can expect the following releases in 2016:
Q1
Q2

Enterprise Integration Pack Preview
BizTalk Server Community Technical Preview (CTP)
General Availability of Logic Apps

Q3

Azure Stack with App Service Preview
BizTalk Server Beta
General Availability Enterprise Integration Pack

Q4

BizTalk Server Release to Manufacturing (RTM)
Azure Stack General Availability

Image Source: Microsoft Integration Roadmap
For BizTalk Server customers, they can expect a full release in 2016 that includes:
Platform alignment with the latest releases of Windows Server, SQL Server and Visual Studio.
BizTalk support for SQL Server 2016 Always On Availability groups. As a result of this investment, customers will also be able to run highly available BizTalk workloads in Azure Infrastructure as a Service (IaaS).
Tighter integration with Azure API Apps (connectors) including support for Salesforce.com, Office365 and others.
Adapter enhancements including improvements to SFTP, WCF NetTcpRelay, updated NCo support for SAP and SHA2 support.
Host Integration Server customers can also expect improved adapters for Informix, MQ and DB2. In addition to these adapter enhancements, improvements to Powershell integration, installation and configuration will also be available.
The first version of BizTalk Server was made available in 2000. Since then Microsoft has released 8 subsequent versions. In addition to BizTalk, Azure Logic Apps entered public preview in March 2015. Since then, Microsoft has provide several incremental updates. One of the challenges for Microsoft moving forward is the convergence of these different technology sets that span several years. Converging these technology sets is a goal Microsoft has outlined in the roadmap. "Our holistic approach demonstrates our focus on capabilities and convergence providing customers more choice than ever before. BizTalk Server, BizTalk Services and Logic Apps are all part a single product unit in Microsoft ensuring we can take the broad approach necessary and to ensure capabilities are available where customers need them."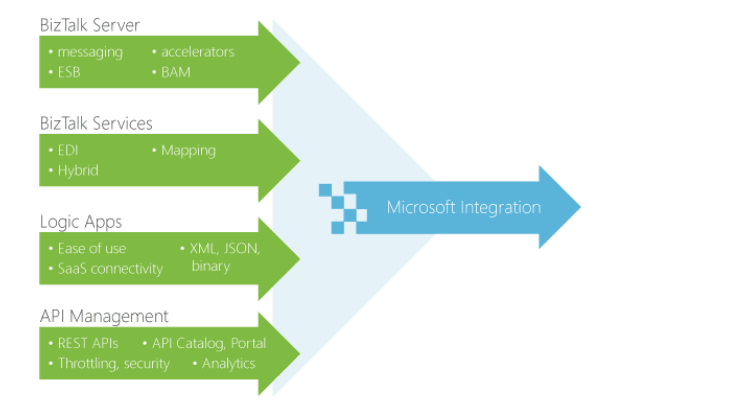 Image Source: Microsoft Integration Roadmap
In a recent blog post, Saravana Kumar, founder and cto of BizTalk360, discusses the need for this roadmap and some of the frustration customers have felt: "Until this point there was no clear direction, apart from a vague belief BizTalk Server will be released every 2 years and Microsoft will continue its investment in the cloud." Ultimately, it appears as if Microsoft has addressed some of the unanswered questions that customers and partners had by publishing this roadmap: "We are very delighted to see this clear roadmap from Microsoft, this clarifies a lot of question that Microsoft BizTalk Server customers have been asking us for a while."
In addition to all of these technology releases in 2016, customers and partners can also expect Microsoft to host another Integrate event some time in Q2.