Microsoft is approaching the cloud as a model and not something that is tied to a specific location. For customers who are not ready for public cloud, Microsoft is trying to bring cloud based capabilities to local data centers that allow customers to develop and deploy IT services in a symmetric way to that of Azure. In response to customer demand, Microsoft has been working on a private cloud solution called Azure Stack that shares much of the same computing fabric that exists in Azure. InfoQ previously covered the January 26th release of Azure Stack Technical Preview 1. As a result, this article will focus on what has changed since then.
Following their Technical Preview 1 release of Azure Stack, Microsoft has launched Azure PaaS Services and DevOps tools, in preview, for Azure Stack.
Microsoft plans on providing continuous updates to Azure Stack while it is in preview. In the first installment of what Microsoft is calling "continuous innovation", the following services and tools are now available for download including:
Web Apps feature in Azure App Service
SQL and MySQL database resource providers
Updated Azure SDK, including PowerShell support and cross-platform CLI support
Native Visual Studio support for Azure Stack
On a recent Azure Stack team blog, Microsoft has cautioned customers on the current maturity of these PaaS services in hopes of collecting early feedback: "Web Apps and SQL/MySQL PaaS services are in early preview today. We're making them available early to solicit community and early adopter feedback to help simplify the installation and configuration experience. We will then incorporate the feedback and release another public preview for these services before we release the next Technical Preview of Azure Stack."
A clear goal for Microsoft is to have feature symmetry between their Hyperscale cloud offering in Azure and what customers can run on-premises using Azure Stack. In order to achieve this goal, they are looking to provide consistent tooling, SDK and API experiences to support administration and DevOps scenarios. The updated Azure SDK, PowerShell support and cross-platform command line interface (CLI) will help customers bridge their on-premises investments with the cloud as they transition workloads to Azure.
The addition of Visual Studio support will also simplify the deployment experience for customers by allowing developers to choose their target environment regardless of whether it is in their data center or Azure. The following image illustrates the experience a developer can expect when selecting their target environment from Visual Studio using the Azure Resource Manager templates that are included in the Azure 2.8.2 SDK.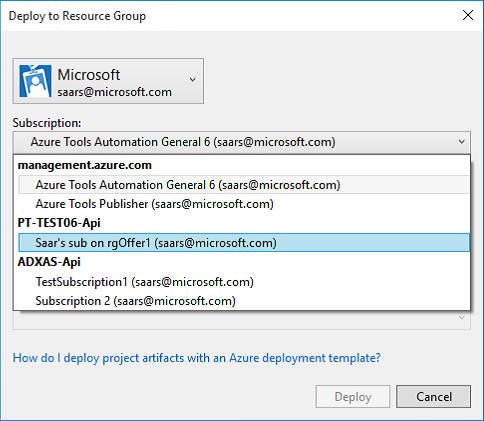 Image Source: https://blogs.msdn.microsoft.com/visualstudio/2016/02/08/write-once-deploy-to-azure-from-visual-studio/