SAFe framework recently introduced the concepts of CapEx and OpEx of Agile budgeting and capitalization. This recent update of SAFe framework, explains some strategies that SAFe enterprises can use to categories labor costs in Agile development, some of which may be subject to Capital Expense (CapEx) treatment.
As per SAFe framework, to support business valued development of the technical solutions enterprises provide funding to a SAFe portfolio. Within portfolio, allocation of funding to individual value streams is under the auspices of Program Portfolio Management, who allocate the funding necessary for each value stream in a portfolio. These budgets may include CapEx and Operating Expense (OpEx) elements.
In Agile, requirements and design emerge continuously, so there is no formal gate to serve as an official prelude to capitalization in contrast to waterfall projects. Therefore, authors mention that capitalization in SAFe, can be done based on value streams and agile release trains.
Following diagram shows how various types of requirements, for instance, innovation spikes, new features, maintenance work are capitalized in release trains using portfolio kanban and program increments.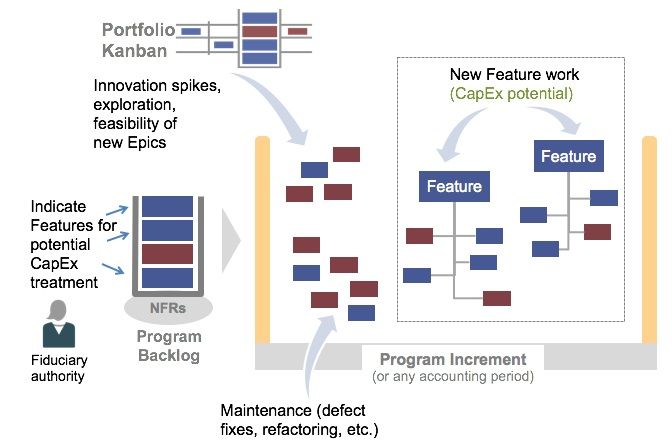 Authors explain how user stories can be applied to CapEx and OpEx as follows:
Most stories contribute directly to new functionality of the feature; the effort for those stories may be subject to CapEx treatment. Below table indicates three of the possible mechanisms for calculating the percentage of work that may be a candidate for CapEx treatment.