IBM recently announced a cloud service for organizations looking to adopt blockchain technologies. The service, which is currently in limited beta, is underpinned by the IBM LinuxONE platform which hosts a series of underlying services for blockchain processing. IBM is positioning this platform for organizations in regulated industries which require secure environments for testing and running blockchain projects.
Blockchain is an emerging technology that has the potential to disrupt many traditional industries that are reliant upon trading partnerships, identity, provenance, trust, security and transactions. Alex Tapscott, author and CEO of Northwest Passage Ventures, calls the technology:
"Ingeniously simple, revolutionary protocol that allows transactions to be simultaneously anonymous and secure, peer-to-peer, instant and frictionless. It does this by distributing trust from powerful intermediaries to a large global network, which through mass collaboration, clever code and cryptography, enables a tamper-proof public ledger of every transaction that's ever happened on the network."
IBM's blockchain services enable businesses to participate in blockchain projects, whether the project be private or consortium based. The underlying platform which supports IBM's blockchain cloud environment is the IBM LinuxONE platform. The IBM LinuxONE platform provides a host for APIs, smart contracts, cryptographic protocols, shared ledgers and a consensus algorithm. IBM claims "the IBM z13 LinuxONE Emperor model can scale up to 8000 virtual machines or thousands of containers." In a recent InterConnect 2016 presentation, Donna Dillenberger an IBM Fellow, feels this type of performance provides a competitive advantage for IBM:
"Hashing is a big deal on the blockchain, hashing is how you make sure entries (are validated and) can't be deleted. Hashing on IBM z is 5x faster than hashing on other platforms. Our crypto protocols are 5-6x faster than crypto algorithms on other platforms."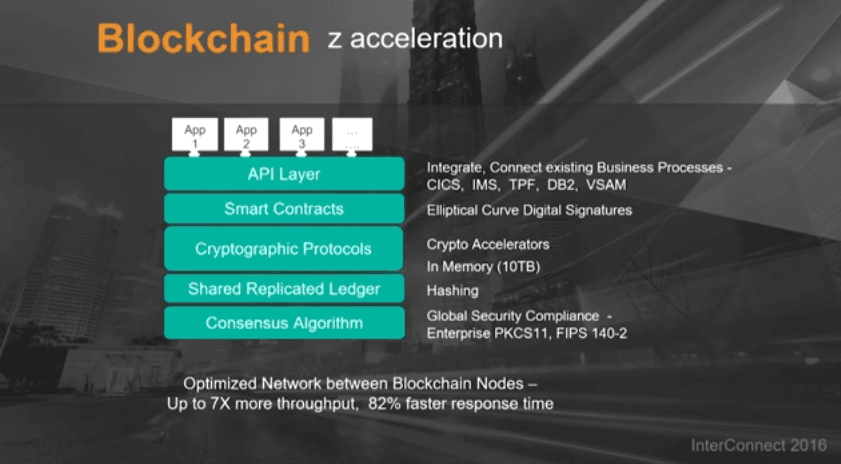 Image Source: (screenshot) https://www.youtube.com/watch?v=8xBrjf05b-w
One organization that is using IBM's blockchain services to transform its business is Everledger. Everledger is building a blockchain application on IBM's platform in order to:
"Track valuable items through the supply chain, helping to protect suppliers, buyers and shippers against theft, counterfeiting and other forms of corruption. The blockchain is used to demonstrate the origin of high-value goods such as diamonds, fine art and luxury goods."
Leanne Kemp, CEO and founder of Everledger, explains how IBM's blockchain platform has the potential to transform her business:
"Having the opportunity to build, test, scale and refine Everledger on IBM Blockchain, underpinned by a security-rich infrastructure, is a game changer. It has accelerated our ability to move fast and deliver the most innovative solutions to our partners internationally and confidentially."
In addition to Everledger, IBM is also evaluating blockchain technology for their own internal use. IBM Global Financing provides channel financing for a worldwide network of over 4000 partners and suppliers. Partners who require a credit line, can obtain one through IBM Global Financing, to purchase from suppliers in IBM's global supply chain. In 2014, IBM provided over $44 billion in financing, across more than 2.9 million transactions.
Each year, over 25,000 disputes arise within this business line at IBM. As a result, each dispute, on average, takes 44 days and $31,000 to resolve. The goal of their project is to reduce the number of disputes and the amount of time to resolve them. They also want to reduce the approximately $100 million tied up while these disputes are being addressed and reduce the overall amount of working capital required to run their business. IBM hopes to achieve these savings by providing a distributed ledger for its partners and suppliers where a single, but distributed, view of transactions is available across the blockchain. This means the shipping and receiving of goods are recorded in the blockchain where both parties have the same view of those transactions.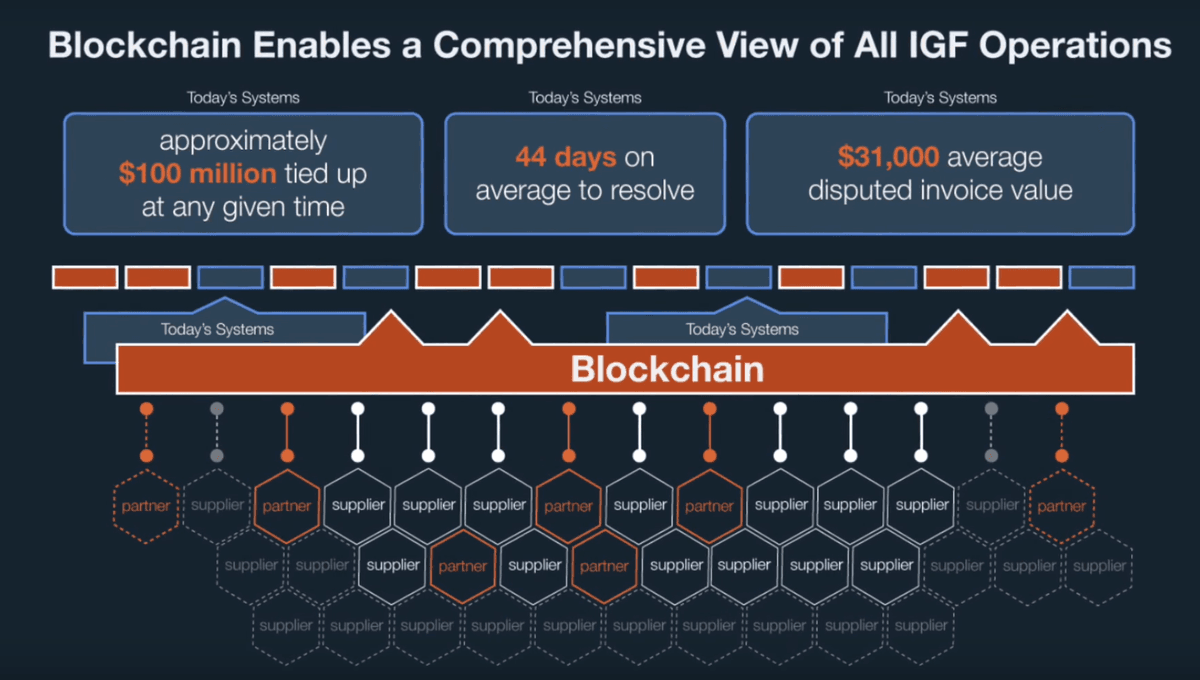 Image Source: (screenshot) https://www.youtube.com/watch?v=F0P7NM7d-ps
IBM is not the only public cloud provider building blockchain services. Back in November 2015, Microsoft announced their Ethereum Blockchain as a Service (BaaS) offering on Microsoft Azure. More recently, Microsoft announced Project Bletchley which provides modular blockchain middleware services to address identity, encryption, gateway, data services and management capabilities. They also announced Cryptlets which provide a secure and trusted host for executing transactions or smart contracts.