In a recent blog post, Microsoft announced their participation in the newly formed Enterprise Ethereum Alliance. Joining them are also companies such as Intel, J.P. Morgan, BNY Mellon, BP, ING, Thomson Reuters and blockchain startups. The mission for this alliance is to:
Learn from and build upon the only smart contract supporting blockchain currently running in real-world production and to define enterprise-grade software capable of handling the most complex, highly demanding applications at the speed of business.
Other launch members include: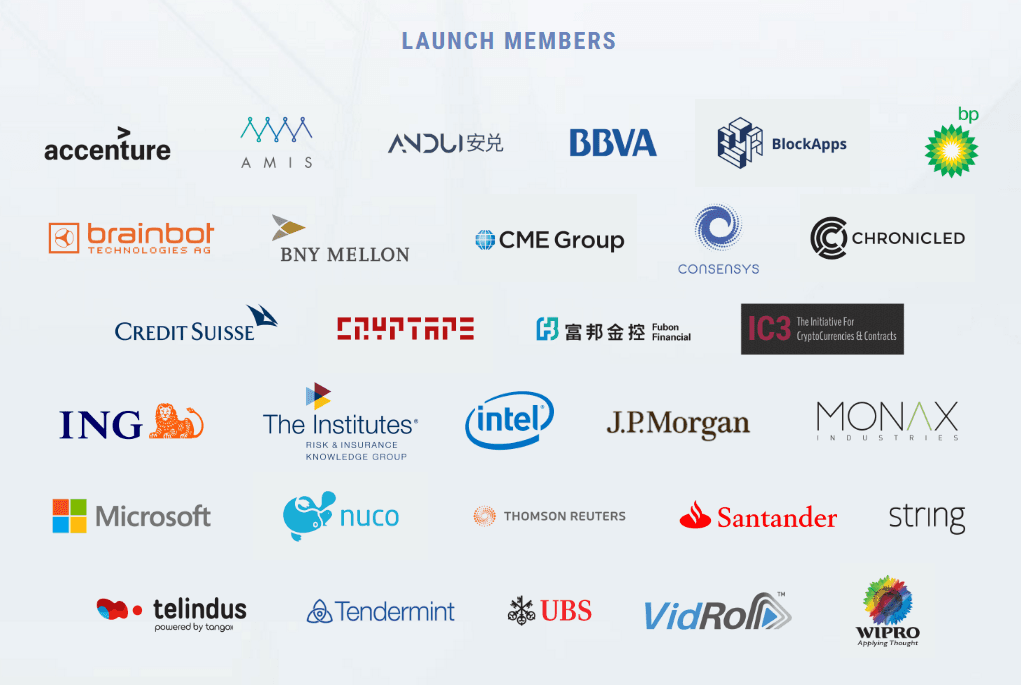 Image Source: http://entethalliance.org/
Ethereum is an open-source, blockchain-based computing platform that enables a distributed ledger for storing value across all nodes participating in the network. It also enables smart contracts which are code executable agreements across parties. The public blockchain initially launched in July, 2015 and, as of this writing, has a market cap of approximately $1.7 billion (USD).
In June, 2016 Microsoft released a whitepaper called Project Bletchley and subsequently launched the blockchain-as-a-service ecosystem in September, 2016. Some of the goals of Project Bletchley include bringing middleware services to blockchain that allows customers to integrate other services, such as identity and smart contracts. One of these middleware services is a Cryptlets which are off-chain code components written in any language that can execute within a secure trusted container over secure channels.
Joining the Enterprise Ethereum Alliance allows Microsoft to continue to support enterprises with their blockchain pursuits. Marley Gray, principal program manager at Microsoft, describes why Microsoft has decided to get involved in this alliance:
Ethereum was the first blockchain supported in Azure and it is evolving to address the needs of enterprises globally. Focusing on requirements like privacy, permissions and a pluggable architecture while retaining its public roots, Ethereum continues to widen the scope of what developers, businesses and consortiums can achieve.
In addition to Microsoft and other established organizations, some emerging startups, focused on blockchain, are also involved like BlockApps, ConsenSys and String Labs.
Jeremy Millar, chief of staff at ConsenSys, in a recent blog post outlined some challenges that enterprises have had in adopting Ethereum including:
Public chains by definition have limited (at least initially) privacy and permissioning requirements. Although Ethereum does enable permissioning to be implemented within the smart contract and network layers, it is not readily compatible 'out of the box' with traditional enterprise security & identity architectures nor data privacy requirements.
Due to some of these perceived gaps by enterprises, some organizations implemented their own fork of Ethereum which Millar predicts will create future issues including: "lack of application portability, code base fragmentation, and vendor lock-in." Millar feels that the Enterprise Ethereum Alliance can address the concerns of organizations looking for private chain governance, but can also make contributions to the public Ethereum chain:
Enterprise Ethereum will build upon the current Ethereum scaling roadmap and maintain compatibility and interoperability with public Ethereum. In fact, we believe Enterprise Ethereum will contribute significantly to the overall development of Ethereum.
String Labs, a crypto studio, incubator and investor, also joined the consortium. In a recent blog post, they discussed the importance of joining the Enterprise Ethereum Alliance:
There's enormous value in building the first alliance focused on shared design between public & private chains (i.e. Ethereum), why the two shall inter-operate and how that interoperability benefits tremendously both sides of the ecosystem.