Mozilla recently announced that the Firefox web browser will block web trackers by default in the near future. Mozilla Firefox wants to protect users from websites that abuse of trackers, which will improve both performance and privacy. They plan to release a series of features through three key initiatives, including improving page load performance, removing cross-site tracking, and mitigating harmful practices.
One of the big problems with website loading performance are web trackers, which are mainly used for targeted advertising and broad user data collection. Earlier this year, General Data Protection Regulation (GDPR), a regulation on data protection and privacy for all individuals within the EU went into effect. As websites started to comply with the wide-reaching data privacy regulation, developers quickly observed significant benefits in page load performance.
In a study by Ghostery, 55.4% of the total time required to load an average website was spent loading third-party trackers, and the this was even worse for users with poor connections. To improve page load performance, a new feature that block trackers responsible for slowing down page load has been added to Firefox Nightly. According to Mozilla, this feature will be in test using a shield study (shield studies let users try features before they are release to all Firefox users) in September, and if the tests perform well, this feature will be available in Firefox 63.
Removing cross-site tracking that are used to follow users around the web is also available in Firefox Nightly; this feature will strip cookies and block storage access from third-party tracking content. According to Mozilla, Firefox beta users will test this in September as part of a shield study, and if the tests perform well, this feature will be available in Firefox 65.
Harmful practices that invisibly collect identifiable user information or degrade the user experience, unfortunately, are common nowadays. For example, trackers that fingerprint users (to identify users by their device properties, which users are unable to control), or sites that deploy cryptomining scripts that silently mine cryptocurrencies on the user's device. At this moment, it is not known which version of Firefox that will stop these practices.
Apple too will provide "Intelligent Tracking Prevention" (ITP) 2.0 for Safari 12, which aims to reduce the ability of third-parties to track web users via cookies and other methods.
Users who want to try these protections, should download Firefox Nightly, then from Control Center menu (left-hand side of the address bar), there is a new section "Content Blocking".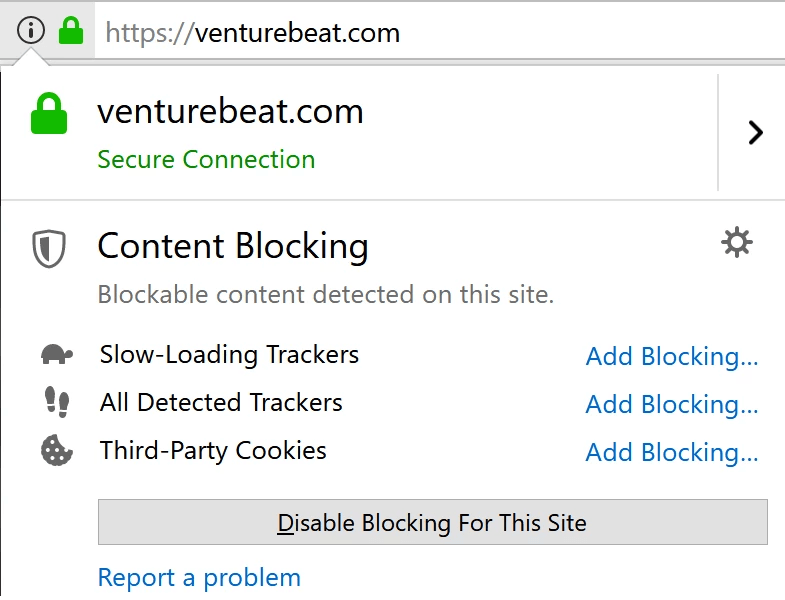 (image taken from the venturebeat.com).
From here, users can enable the blocking of slow-loading trackers or cross-site tracking through third-party cookies by clicking "Add Blocking…" next to the respective option. Check "Slow-Loading Trackers" to improve page load performance, and check "Third-Party Cookies" and select "Trackers (recommended)" to block cross-site tracking cookies.