Recently, Google announced the availability of Elastifile Cloud File Service (ECFS) for its Cloud Platform (GCP) on their blog website. With ECFS, Google provides a managed file service for its customers.
In December 2018 Google first introduced ECFS to the public when Elastifile partnered with them to deliver a fully managed, cloud-native file service, complete with a full suite of enterprise NAS features. Google does have a file service in GCP called Cloud Filestore for simple use cases, however, it doesn't offer the scalability that ECFS provides.
In the blog post on the GA of ECFS, Dominic Preuss, director of product management at Google, stated that the partnership resulted in a service that provides:
• A native GCP user experience with monitoring, billing, and support integration
• Petabyte capacity on demand
• Cost-effective, pay-as-you-go pricing tiers
• The ability to tier data between file and object storage and optimize your price vs. performance
• Multi-zone availability, automated snapshots, and asynchronous replication
With ECFS customers can support various use cases such as rendering movies, providing persistent storage for Kubernetes, and data resilience for pre-emptible cloud VMs and scalable Network Attached Storage (NAS) for cloud-native services. ECFS runs both on-premises and in the cloud - thus it can function as a cloud on-ramp for Google. Hence, customers, for example, could move SAP applications such as NetWeaver, and HANA to the public cloud using ECFS.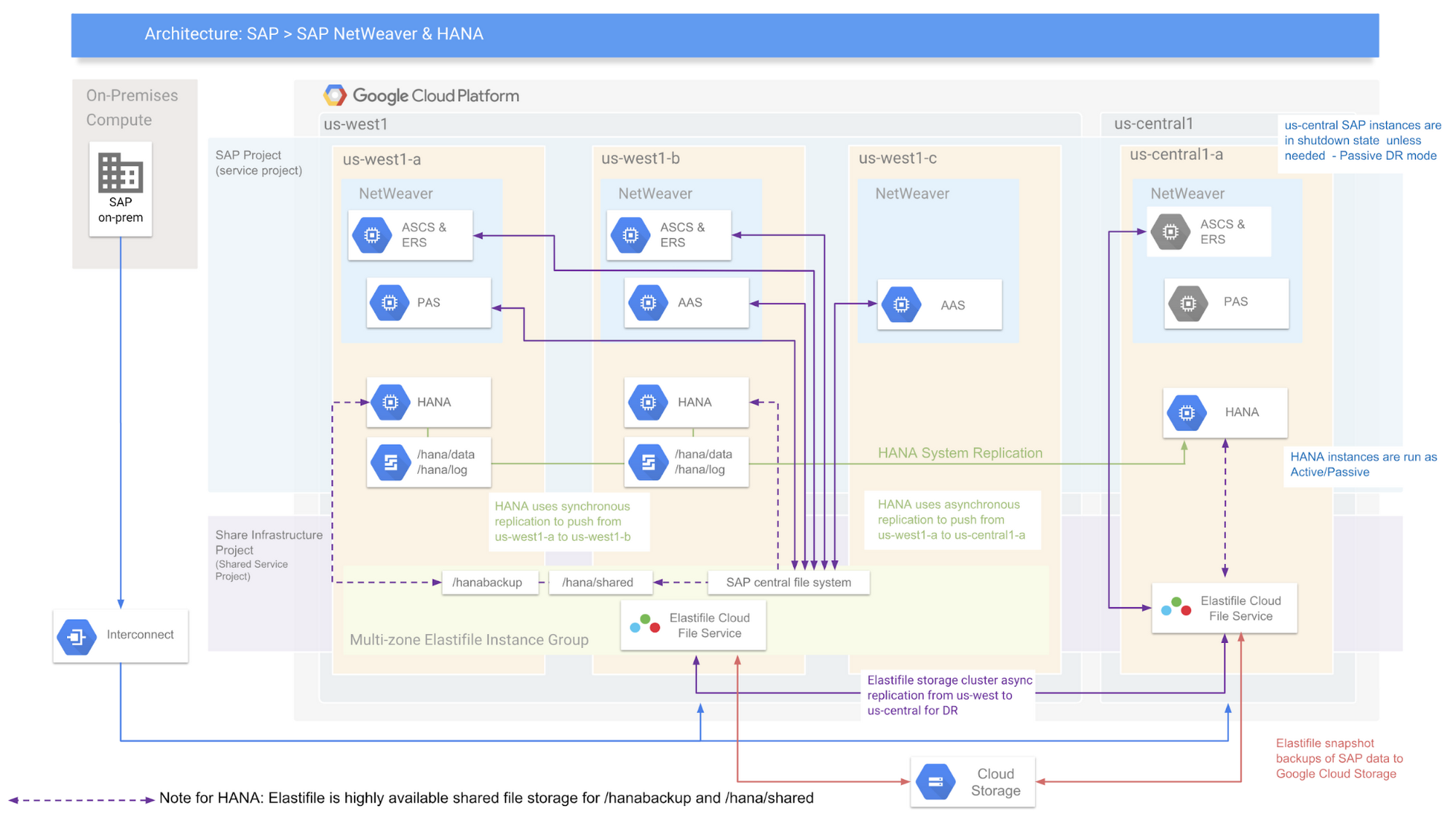 Source: https://cloud.google.com/blog/products/storage-data-transfer/scale-storage-out-with-new-elastifile-cloud-file-service-for-gcp
One of the experts on storage, Dan Frith, stated in his blog post about ECFS:
Not everyone will want or need a managed service to go with their file storage requirements, but if you're an existing GCP and/or Elastifile customer, this will make some sense from a technical assurance perspective.
The ECFS supports a variety of file protocols: NFS v3/4, SMB, AWS S3 and the Hadoop File System. Furthermore, it can scale out to support 1,000s of nodes and PBs of capacity and deliver millions of IOPS. Also, the service features automated snapshots and asynchronous replication.
Source: https://blocksandfiles.com/2019/04/02/google-endorses-elastifile-cloud-file-service-for-gcp/
Note that Elastifile service is now generally available on GCP, Amazon Web Services (AWS), and bare metal on-premises environments, with Microsoft Azure availability coming soon.
ECFS is available in the Google Cloud Market Place and offers both subscription and pay-per-use options.