Connected Home over IP is a recently announced, joint effort by Apple, Google, Amazon, and the Zigbee Alliance to define a connectivity standard for smart home products. To accelerate this initiative, Apple has open sourced parts of its core technology for smart home connectivity.
According to the official announcement, the new open-source and royalty-free standard will leverage smart home technologies from Amazon, Apple, Google, and Zigbee Alliance members. Specifically, the new protocol aims to make it easier to build devices that are compatible with smart home and voice services such as Amazon's Alexa, Apple's Siri, Google's Assistant, and others. Consumers should benefit from increased compatibility, too.
The project is built around a shared belief that smart home devices should be secure, reliable, and seamless to use. By building upon Internet Protocol (IP), the project aims to enable communication across smart home devices, mobile apps, and cloud services and to define a specific set of IP-based networking technologies for device certification.
At the moment, it is not entirely clear what the new protocol could look like and what will it encompass. Likewise, no timeline has been provided for the first compatible product to be available on the market. Yet, Apple and Google have already taken their first steps to accelerate the new protocol development.
Apple has open-sourced portions of its HomeKit Accessory Development Kit (ADK).
Starting today, developers can use the HomeKit Open Source ADK to prototype non-commercial smart home accessories. Apple will also contribute its HomeKit Accessory Protocol to the working group.
Apple stresses the importance of making privacy, along with security, one of the fundamental tenets of the new protocol. Apple says HomeKit and the associated Home app use innovative privacy technologies and techniques to protect customer information from the ground up which will find their way into the new protocol.
Google has announced in a post they will be contributing parts of their OpenWeave projects and mentioned Thread as one of the new protocol building blocks, along with Wi-Fi, Bluetooth Low Energy, and other protocols at the physical and media layer. Thread is an IP-carrying low-powered and self-healing mesh networking protocol that is used in some Google Nest products.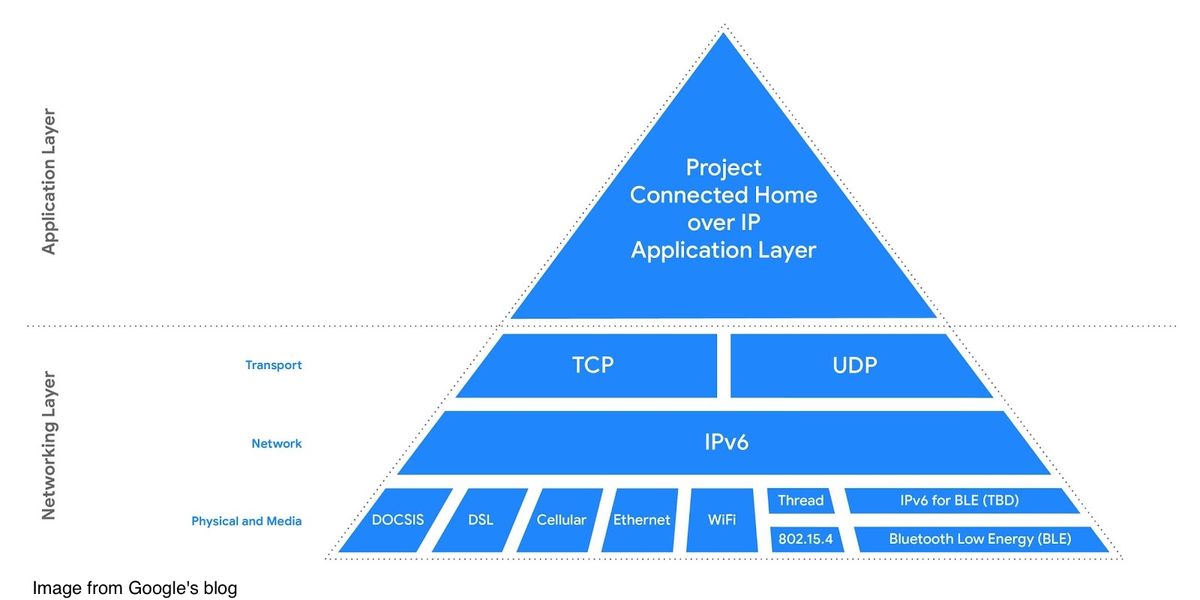 The announcement of a new effort to create a standard is by no means a guarantee that the new standard will ever see the light, let alone succeed in replacing existing ones. Still, if Amazon, Apple, and Google, which provide the three dominant voice-controlled assistants, are serious about this new project and start using the new protocol within their own ecosystems, this could convince IoT device manufacturers, including Xiaomi, Huawei or Tuya, to adopt it.
Zigbee Alliance includes Samsung SmartThings, Schneider Electric, Signify (formerly Philips Lighting), IKEA, NXP Semiconductors and others. Its main goal is to create wireless high-level communication protocols for low-power, low-bandwidth devices.