Recently, AWS announced the beta release of Amazon Honeycode, a fully managed service allowing customers to build mobile and web applications without writing any code quickly. With Amazon Honeycode, customers can build applications that are tailored specifically for tasks that involve tracking data over time and notifying users of changes, routing approvals, and facilitating interactive business processes.
For over a year now, the tech company has been working on the no-code service Honeycode. Earlier, the service had the project name 'AWS for Everyone,' intending to allow anyone with little to no software development experience in an organization build simple business applications without the dependency of the IT department. Now the service is available in AWS as a managed service with the name Honeycode, where users can leverage a visual application builder to create interactive web and mobile applications backed by a powerful AWS-built database. Moreover, the applications users build can range in complexity from a task-tracking application for a small team to a project management system that manages a sophisticated workflow for multiple teams or departments.
Within the Honeycode service there is a visual builder accessible once a user logs in. Inside the visual builder, the user can choose to import a CSV file (data) into a blank workbook or use one of the pre-defined templates or start from scratch. When selecting a pre-defined template in the visual builder, the data model, business logic, and applications are pre-defined and ready-to-use out of the box.
With the underlying database, data can be linked, filtered and sorted easily using the visual builder and a data entry structure similar to a traditional spreadsheet. Furthermore, the user can within the visual builder add notifications, reminders, approvals and other actions based on conditions.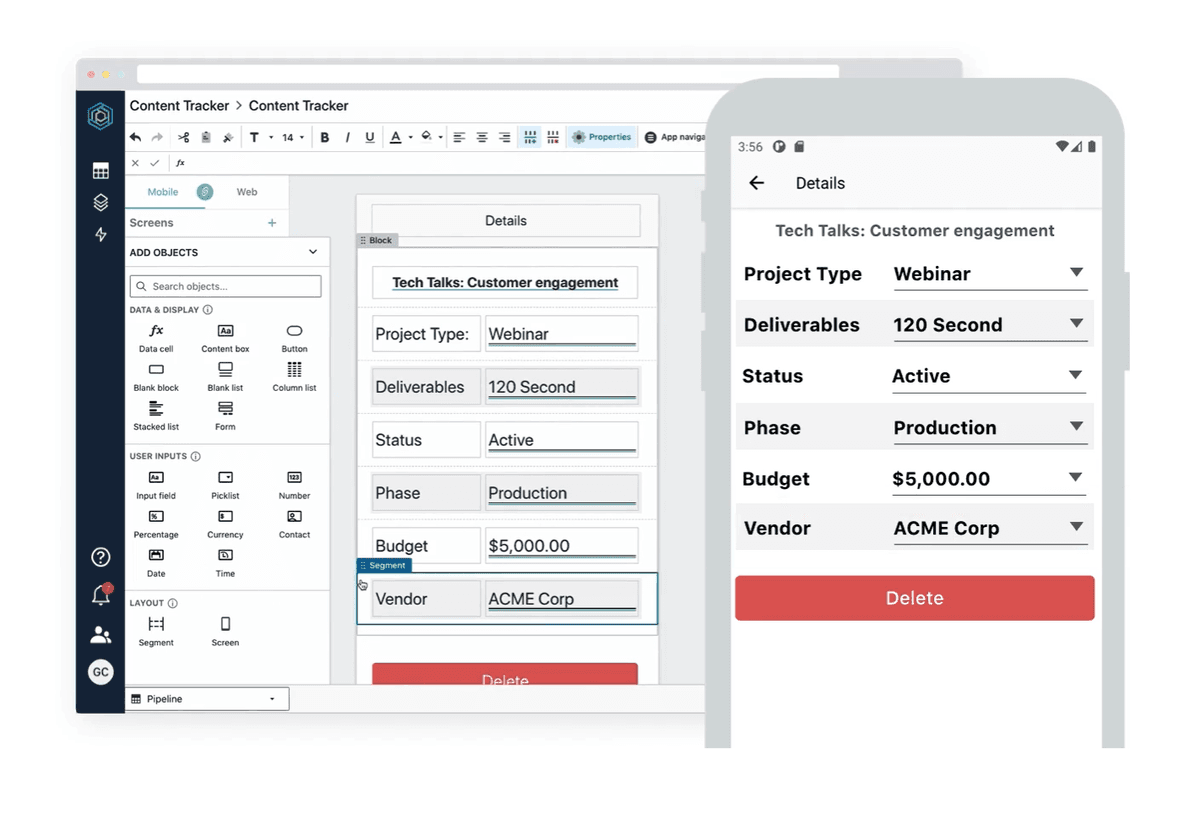 Source: https://www.honeycode.aws/
Amazon is a latecomer with its no-code offering Honeycode. In 2015 Microsoft introduced PowerApps a part of the later branded Power Platform to allow power-users or 'citizen' developers build custom applications solving business problems. Furthermore, in January of this year, Google acquired AppSheet, a start-up with no-code application-development tools. Each of them and several vendors like Salesforce, Mendix and Outsystems with their low-code and no-code offerings are in a market that Forrester predicts would grow 50% a year to more than $21 billion by 2024.
Andy Jassy, CEO of AWS, stated in a tweet:
How many apps never get built b/c people don't have programming skills or the technology team is too busy to get your app? A lot. This is what our new #AWS service, Amazon Honeycode, intends to address. Makes everybody a #builder.
Also, a respondent on a Reddit thread on the beta release of Honeycode said:
Seriously, it looks amazingly like Power Platform (seems like some elements of what used to be Flow in there as well). My experience with that has been that it denies better than it actually works for real-life, complex situations a lot of times. That may be true here too, but I still appreciate both for trying to empower more people to build things.
Currently, Amazon Honeycode is available in the US-East (North Virginia) and US-West (Oregon) AWS regions with more regions to follow soon. Customers can build application up to 20 users for free and only pay for the users and storage used for larger applications – more details on pricing are available on the pricing page. And finally, Honeycode includes pre-built templates and access to its community.