In a recent blog post, Microsoft introduced the Azure Well-Architected Framework, which provides customers with a set of Azure architecture best practices to help them build and deliver well-designed solutions.
The Microsoft Well-Architected Framework consists of five pillars of architectural best practices: cost management, operational excellence, performance efficiency, reliability, and security. Each intends to help customers optimize their workloads against Azure best practices and specific business priorities. Moreover, they can leverage the Well-Architected Assessment Review, a survey, which delivers them an assessment based on the five pillars. Once a customer completes the series of questions, scores are provided based on the chosen pillars along with a set of actionable recommendations.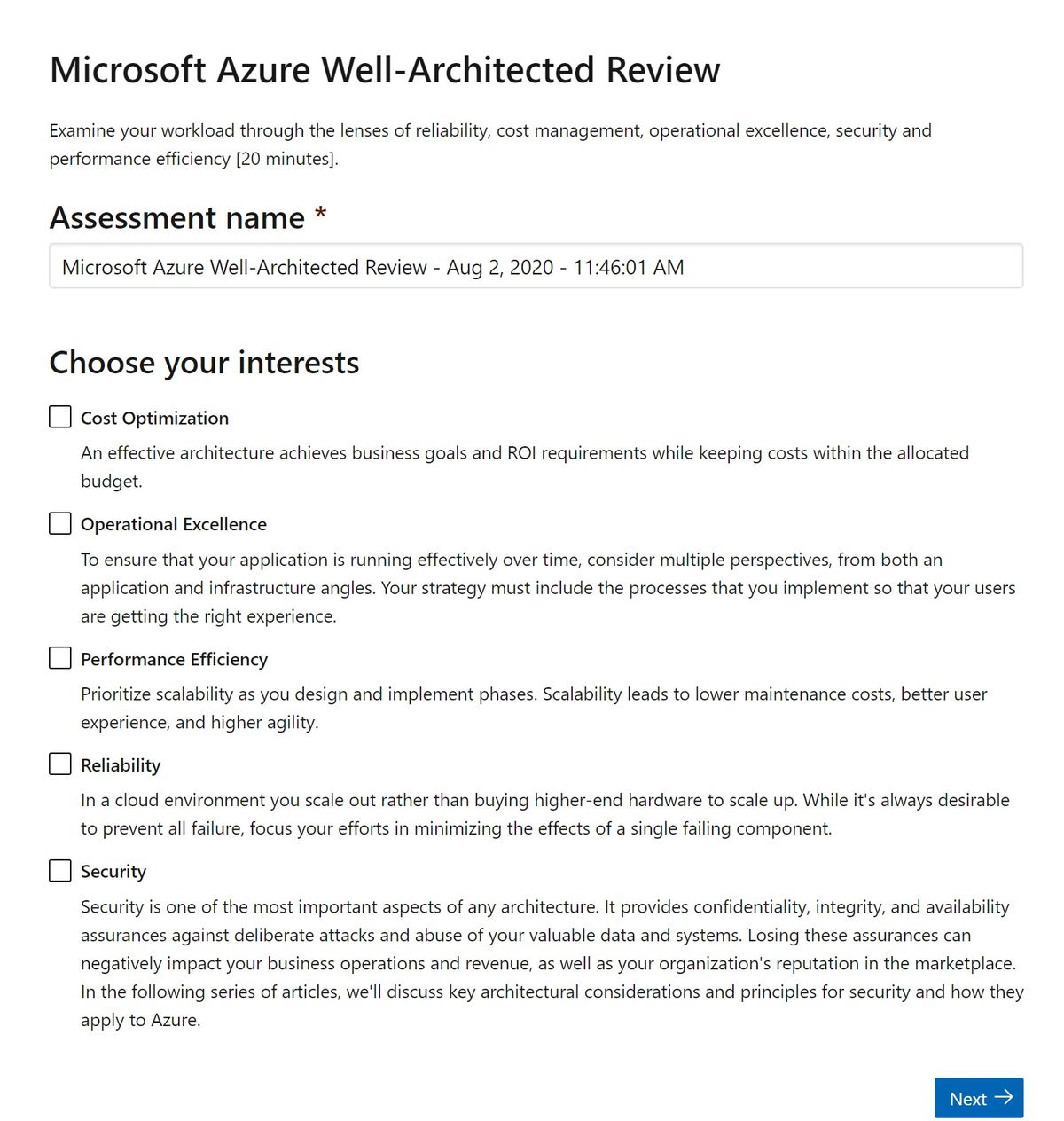 Erin Rifkin, partner group PM manager, Developer Relations, stated in the blog post:
Every customer is on a unique cloud journey, so we designed the Azure Well-Architected Review to be tailored to an individual company's needs. You can evaluate each workload against only the pillars that matter for that workload, so when evaluating one of your mission-critical workloads, you might examine reliability, performance efficiency, and security first and then later come back and look at the other pillars to improve your operational efficiency and cost footprint.
Public cloud vendors Amazon and Google provide similar frameworks to assess and guide customers on their platforms. The AWS Well-Architected Framework has been available since October 2015, and its self-service review tool since a couple of years later, in December 2018. And Google earlier this year in May made the Google Cloud's Architecture Framework available, providing their customers with best practices and implementation guidance on products and services on GCP.
Rik Hepworth, CCO at Black Marble and Microsoft Azure MVP, shares his opinion with InfoQ about the Microsoft Azure Well-Architected Framework:
This kind of content is essential, and it is great to see. Many organizations struggle with validating their approach to cloud, and team members strive to point at clear documentation to support and confirm their position.
Lastly, Microsoft at Build 2020 introduced learning modules on their Learn platform for the Well-Architected Framework supporting customers when designing cloud solutions on Azure with concise content and guidance. Furthermore, Hepworth told InfoQ:
I think it is essential for organizations like Microsoft to provide this, just as much as the certification programs are imperative. The fact that it is tied into Learn gives a holistic approach that covers skills development, validation, and accreditation, which can only be a good thing for tech professionals and the organizations they work for.