Grafana Cloud is a fully-managed observability platform from Grafana Labs for applications and infrastructure. The company recently announced a new version for Grafana Cloud, including a free tier version, a different pricing structure, and several significant new features such as enhanced alerting and synthetic monitoring.
With Grafana Cloud, users don't have to build and maintain an observability stack themselves. They can benefit from leveraging the platform by integrating their metrics and logs with Grafana Cloud. The new version provides users with the following:
A free tier version - providing everything they need to monitor other popular open-source observability technologies like Prometheus, Loki, and Temp, all integrated within Grafana. Earlier, free access was limited to 14 days.
A new paid pricing structure that's much more attractive to enterprises by offering more metrics. Grafana Cloud Pro users will pay $49 per month, allowing for 15,000 series for metrics archived for 13 months instead of 3,000 series.
Various significant new features:

A growing library of cloud integrations (such as Go, MySQL, and CockroachDB), in addition to existing 40+ plugins
Prometheus-style alerting rules for both metrics and logs directly in Grafana
A Grafana Cloud Agent, based on Prometheus, which is a lightweight collector for sending data to Grafana Cloud
A new tracing solution called Tempo, which is still in preview, and
A Synthetic monitoring tool for system administrators to view systems' health from their users' perspective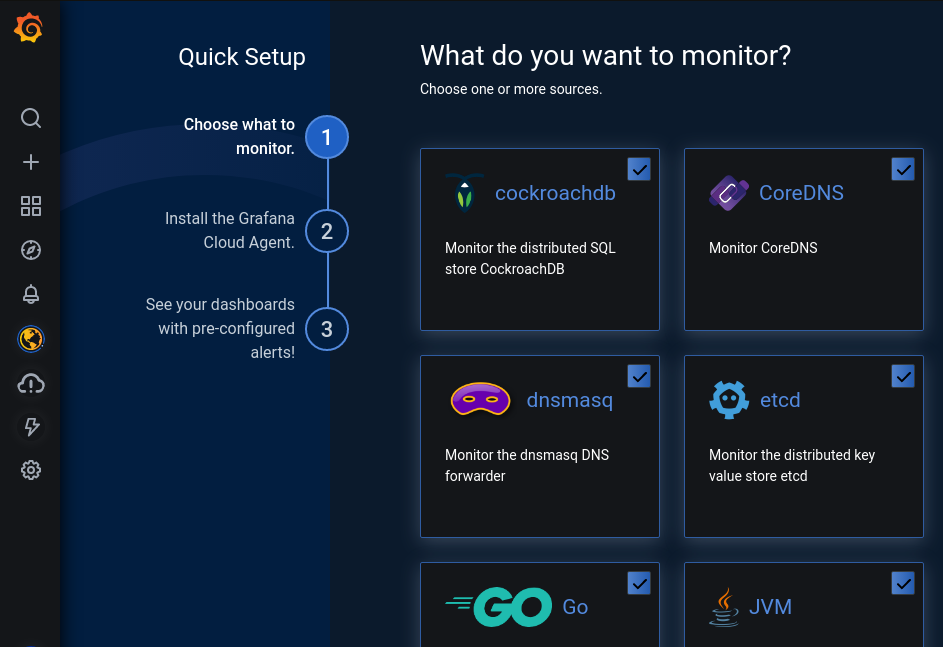 Source: https://grafana.com/blog/2021/01/13/how-to-get-started-quickly-with-metrics-logs-and-traces-using-grafana-cloud-integrations
Grafana has become one of the most popular, if not the most popular, visualization engines for the data key to observability: event logs, key attribute metrics, and traces. In the Cloud Native Computing Foundation's Technology Radar Survey from September last year, for example, two-thirds of the respondents said they used both Grafana and Prometheus.
Holger Mueller, principal analyst and vice president at Constellation Research Inc., told InfoQ:
Grafana has quickly become one of the most popular logging and observability standards. But data needs a home to be managed, used, and analyzed, which is now being added to Grafana. This will help adoption as users right away can build their observability solution - proving a pivotal step to higher observability velocity.
By making monitoring more cost-friendly and lowering entry barriers, observability providers start offering free tiers to services. Besides Grafana Labs, New Relic Inc added a free tier to its platform a few months ago. Furthermore, Startup Logz.io more recently introduced a cost reduction feature called Smart Tiering.
Richard Lam, senior product manager at Grafana Labs, stated in the announcement:
As technology has evolved, so have our customers' applications and operational needs. That led to building Grafana Cloud into a full-stack observability solution incorporating other open-source technologies such as Cortex for scalable Prometheus, Loki for logging, and Tempo for tracing. Considering our open source roots, adding a fully-featured free plan only makes sense.
Also, a respondent on a Reddit thread on the Grafana Cloud free plan offering, which includes 10,000 active series metrics for Prometheus or Graphite and 50GB Loki logs with 14-day retention, stated:
This is 40x more than the AWS Prometheus service free tier. At 15s standard scrape interval, the AWS hosted Prometheus would cost you around $350/month to get this level of service.
More details on Grafana Cloud are available on the documentation website.