Recently Google announced the preview of Network Connectivity Center, a new service for network connectivity management in Google Cloud. With the network service on the Google Cloud Platform (GCP), enterprises can create, connect, and manage heterogeneous on-prem and cloud networks from a single place.
The company released Network Connectivity Center as a solution for enterprises to deliver consistent network access, policies, and services, regardless of their applications or users' locations. In principle, the service provides a single connectivity model to quickly connect and manage VPNs, interconnects, and SD-WANs to access workloads. Furthermore, Network Connectivity Center provides enterprises with the following:
Flexible cloud connectivity to use Google's global infrastructure, leveraging new or existing partners and dedicated interconnects, Cloud VPN connections - and third-party routers/SD-WAN to transfer data reliably across on-premises sites and cloud resources
VPN-based multi-cloud connectivity at a global level, allowing connectivity directly and via a set of partners, providing the flexibility of choice to create, connect and consume resources spanning multiple clouds
An SD-WAN /router integration, with Network Connectivity Center as the default landing point (hub) when integrating SD-WAN and other routing solutions (spokes) with Google's infrastructure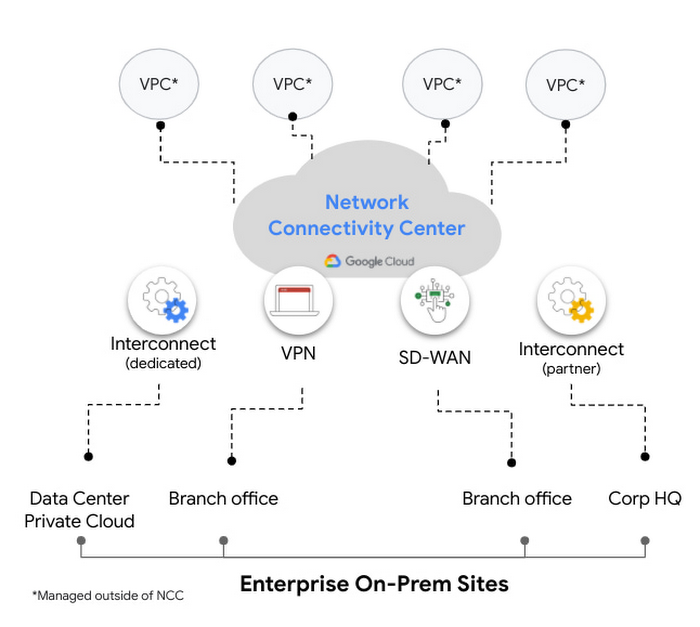 Source: https://cloud.google.com/blog/products/networking/announcing-network-connectivity-center
For end-to-end visibility of the entire network, users can pair Network Connectivity Center with Network Intelligence Center, which allows them to monitor real-time performance and network health, view traffic flows, and verify connectivity intent.
The main benefit of this new service for enterprises is, according to a Google Cloud News blog post by Rohith Ramkumar, product manager, Cloud Networking:
Network Connectivity Center serves as a vantage point to seamlessly connect VPNs, partner and dedicated interconnects, as well as third-party routers and Software-Defined WANs, helping you optimize connectivity, reduce operational burden and lower costs—wherever your applications or users may be.
Furthermore, with Network Connectivity Center, it is easier to, for instance, connect to Cisco SD-WAN. A year ago, Cisco and Google announced a partnership to connect Cisco SD-WAN Cloud Hub with Google Cloud to enable more secure and faster on-demand connectivity. Now the partnership is extending by bringing both solutions together, providing customers with a new set of capabilities that dramatically simplifies complex heterogeneous networks, protects mission-critical applications, and minimizes operational burden and costs.
Holger Mueller, principal analyst and vice president at Constellation Research Inc., told InfoQ:
The battle for the control plain of workloads is in full swing, and logically it includes network operations, especially important given the recent security challenges and breaches. Simultaneously, the network of enterprises has well expanded beyond the perimeter of corporate buildings into millions of employee and partner homes - not to mention billions of connected IoT devices. So it is software-defined WAN (SD-WAN) as the technology to the rescue, and Google is early partnering with Cisco in the space to secure networks holistically.
Lastly, more details of the Network Connectivity Center are available through the documentation page, and the pricing will follow soon.