At the recent Think conference, IBM introduced an AI-powered automation tool called Watson Orchestrate. It is currently in preview in IBM Cloud Paks for Automation and expected to be generally available later in 2021 as an SaaS offering.
Watson Orchestrate is a new interactive AI capability designed to increase the personal productivity of all business professionals across sales, human resources, operations, and more. It will allow them to interact using natural language to perform a task like scheduling a meeting. Furthermore, the tool connects to popular business applications like Salesforce, SAP, and Workday and standard collaboration tools such as chat, calendar, and email. Note that no IT skills are necessary when using Watson Orchestrate, according to the company.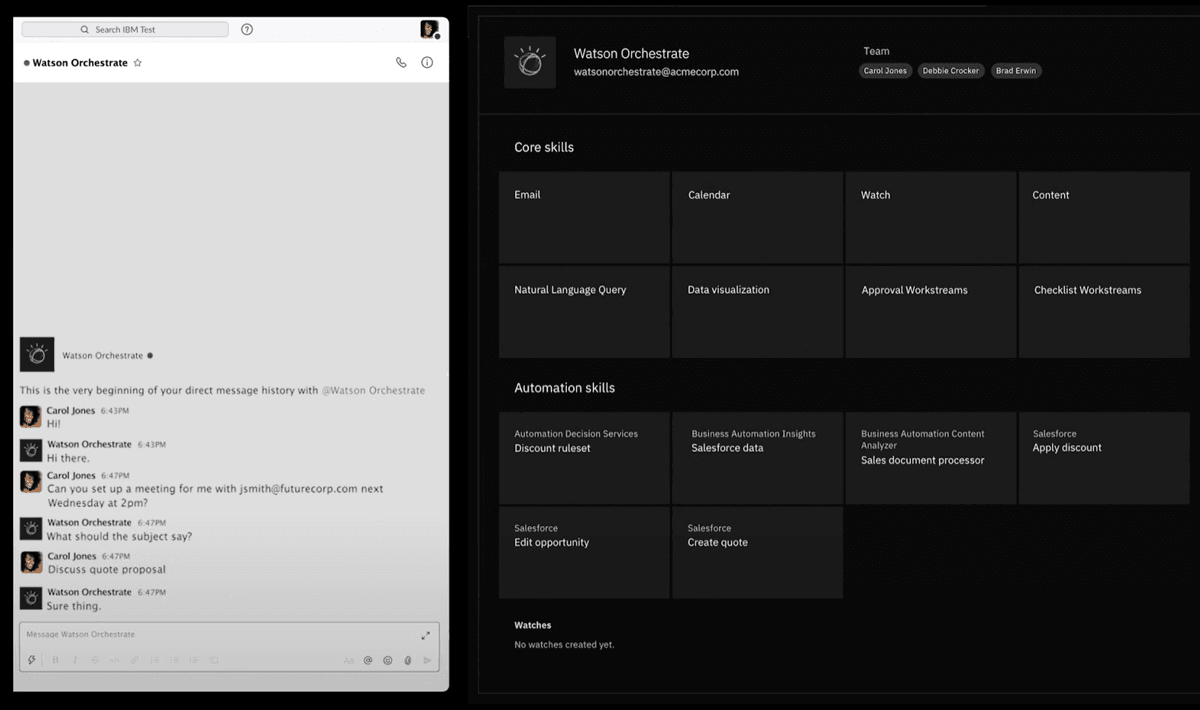 Source (screenshot): article on things to know about Watson Orchestrate provides the following examples:
A sales director can ask Watson Orchestrate to monitor business opportunities, send an email alert when a deal progresses, and set up a meeting with the respective sales lead to discuss the next steps – all behind the scenes.
And:
Watson Orchestrate understands and maintains context based on organizational knowledge and prior interactions. So, it can identify which Jenny the user wants to send an email to and which application to pull data from to perform the task – be it Salesforce, SAP, or Workday. Watson Orchestrate can quickly access and act on the information needed based on the user's preferred business applications.
Currently, Watson Orchestrate is still in development, with early access coming in June as part of IBM Automation Cloud Paks. A visual demo is available at the IBM media center.
According to a new "Global AI Adoption Index 2021" survey, 80 percent of companies are already using or planning to use automation software and tools in the next 12 months. The AI and automated capabilities in Watson Orchestrate are among the latest innovations developed by IBM Research and commercialized into a product to help customers adopt IBM's hybrid cloud and AI solutions and reclaim their time. Microsoft made a similar promise with their Power Platform offering. Furthermore, AWS with Honeycode and Google with AppSheet have offerings that provide automation capabilities – yet not infused by AI.
Dion Hinchcliffe, vice president, and principal analyst at Constellation Research, said in a tweet:
My take: The new #WatsonOrchestrate is a powerful example of how to supercharge and streamline the #digitalworkplace. Connects apps together to deliver end-to-end business processes to boost productivity and quality of work.
Also, Wilko Wolters, industrial and automotive lead IBM iX (DACH), stated in a tweet:
#think2021 @IBM Launches New #Cloud, AI Services in Bid to Modernize Business

Think Conference highlights IBM's pivot to #hybridcloud, #AI
"Watson Orchestrate" tool capitalizes on rise of chat bots
Lastly, Watson Orchestrate is one of the several automation-focused efforts IBM has embarked on. The company also recently unveiled a new version of its Cloud Pak for Watson AIOps, bringing together several tools designed to automate time-intensive, often tedious, IT management and operations tasks.