AWS has recently announced the general availability of Amazon Location Service, a managed solution designed to add location functionalities to applications. The service relies on location providers like Esri and HERE and now supports routing and satellite imagery capabilities.
Amazon Location Service includes five main features for location-based developments: maps, to visualize location information, places, to support geocoding and reverse geocoding capabilities, routes, trackers and geofences. Among the most common use cases, Location Service is designed for building delivery applications, asset tracking and geomarketing.
As reported by InfoQ, Amazon Location Service was announced in preview at the end of re:Invent 2020. Since then, AWS has added two new main features, satellite imagery and routing. Using Amazon Location Routes, an application can request the travel time, distance, and the directions between two locations, obtaining travel-time estimates based on live road and traffic information. Using extra attributes such as waypoints, departure time and travel mode, it is possible to customize the information to a specific use case.
Marcia Villalba, senior developer advocate at AWS, explains how the new service can address location-based use cases with low development effort:
I have been a full-stack developer for over 15 years. On multiple occasions, I was tasked with creating location-based applications. The biggest challenges I faced when I worked with location providers were integrating the applications into the existing application backend and frontend and keeping the data shared with the location provider secure (...) This service makes it possible to build location-based applications with a native integration with AWS services (...) and customers remain in control of their data.
In an article titled "AWS Developers Now Have More Options", Michael Palermo, lead evangelist at HERE Technologies, explains how AWS Location Service is a new alternative for providing maps, geocoding, geofencing, and location data and how a developer can use it and still relying on HERE data and services.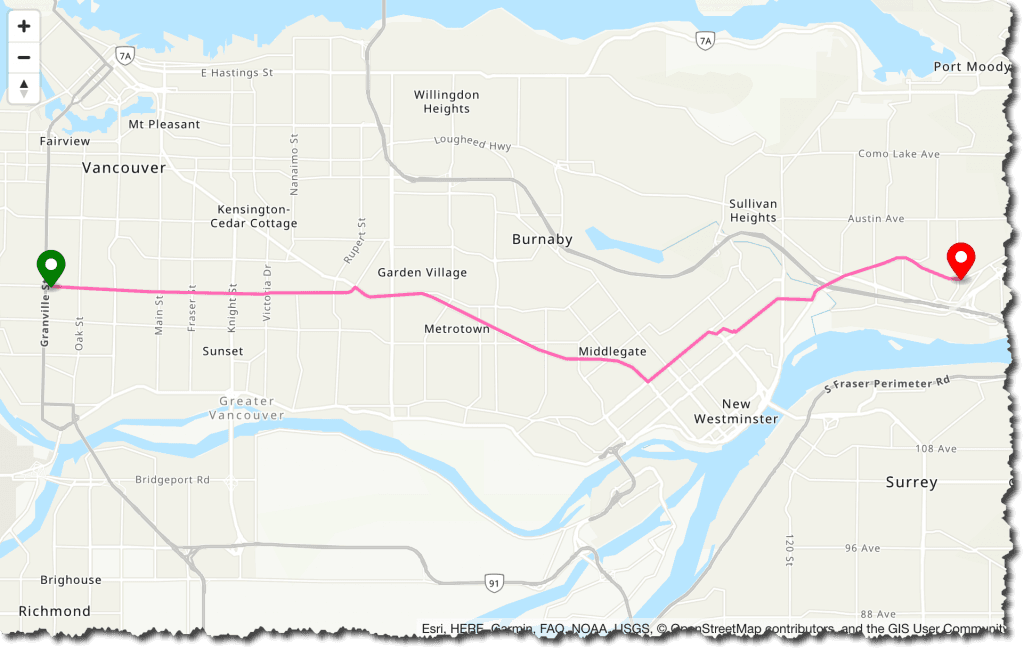 Source: https://aws.amazon.com/blogs/aws/amazon-location-service-is-now-generally-available-with-new-routing-and-satellite-imagery-capabilities/
Comparing the service to Google Maps, a user on reddit highlights a missing feature:
We'd love to use this to replace our last Google dependency - but I can't find any information about timezone information by either address or geocode. I'm assuming that this just isn't supported yet?
User ElectricSpice appreciates instead the caching feature:
One really cool thing about this is that for a premium ($4 per 1000 vs $0.50 per 1000) you're allowed to store geocoding results. Most geocoding platforms don't allow any storage or caching of results, which really ties your hands on how you can use it.
For the location resources created for an application, a developer can choose one of the three pricing plans: mobile asset management plan, mobile asset tracking plan, or request-based usage plan. While it is possible to use multiple plans within the same account, only one can be chosen for each application and not every feature is supported in every plan. Corey Quinn, cloud economist at The Duckbill Group, comments:
This service may have the most complicated pricing model that I've ever seen, a giant raft of licensing restrictions since it would seem that AWS and their providers are both terrified of competition, and is somehow still a better deal than Google Maps API.
Amazon Location Service is currently available in a subset of regions in Europe, US and Asia.