Amazon recently announced the general availability of QuickSight Q, a natural language query tool for the enterprise edition of the business intelligence service QuickSight.
Introduced to make BI more accessible, Q uses machine learning algorithms to understand the relationships across data. It automatically parses the questions, understands the intent, retrieves the data and returns the answer in the form of a number, chart, or table in QuickSight.
Announced in preview at the AWS re:Invent 2020, Q is powered by topics, which are created by QuickSight authors within an organization and represent subject areas for questions. Amazon has published a video describing the five-step process that authors can follow to create a topic.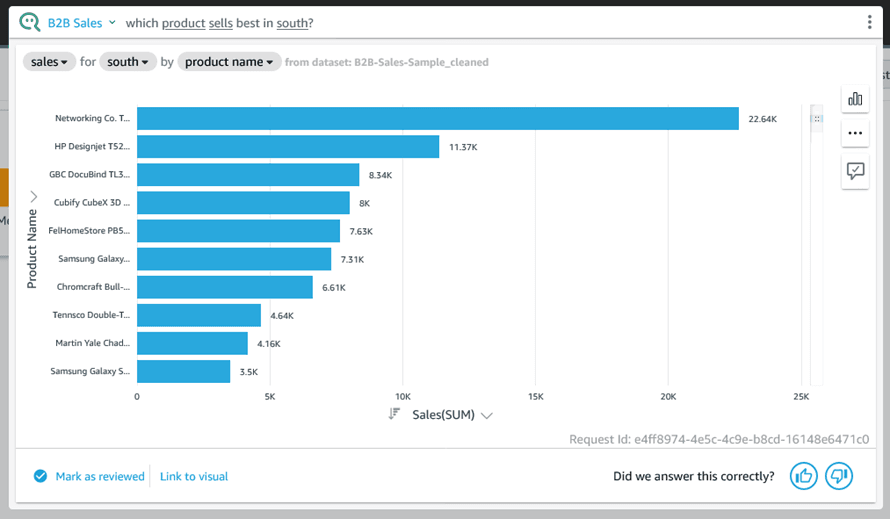 Example of answers to a natural language question. Source: https://aws.amazon.com/blogs/aws/amazon-quicksight-q-business-intelligence-using-natural-language-questions/
To improve Q's answers, authors can add friendly names, synonyms, and descriptions to datasets and columns. Furthermore, they can share the topic to users, monitor the questions users are asking, how Q answers, and iterate upon the results. Jeff Barr, vice president and chief evangelist at AWS, explains the benefits of Q:
Powered by machine learning, it makes your existing data more accessible, and therefore more valuable. Think of Q as your personal Business Intelligence Engineer or Data Analyst (...) Q uses Natural Language Understanding (NLU) to discover the intent of your question. Aided by models that have been trained to recognize vocabulary and concepts drawn from multiple domains (sales, marketing, retail, HR, advertising, financial services, health care, and so forth), Q is able to answer questions that refer to all data sources supported by QuickSight.
Launched in 2016, the managed BI service QuickSight supports different AWS data sources including Redshift, RDS and S3 as well as third party sources and applications such as Salesforce, Adobe Analytics, ServiceNow, and Excel.
Scott Piper, AWS security consultant, suggests a connection between the new BI feature and the appointment of Adam Selipsky:
With the CEO of AWS having previously been the CEO of Tableau, QuickSight is getting some attention.
Corey Quinn in his newsletter questions instead the name of the feature:
I often joke that "Amazon Aurora" set up an AWS service naming theme around Disney princesses. AWS clearly didn't find that joke as funny as I did and launched a service that's instead named after a character from "Star Trek: The Next Generation."
Q is currently only available in English and in a subset of AWS regions, including North Virginia, Oregon, Ireland and Frankfurt. As for the pricing page, QuickSight offers an enterprise and a standard edition with customers being charged a monthly fee for each reader and each author. Q is supported only in the enterprise edition.