AWS and VMware recently announced VMware Cloud on AWS integration with Amazon FSx for NetApp ONTAP. Designed for data-intensive VMware workloads, the new option is a supplemental datastore for VMware Cloud on AWS, reducing storage costs and simplifying migration to the cloud for enterprises.
Announced last year at the AWS Storage Day, Amazon FSx for NetApp ONTAP is a managed service that allows customers to run NetApp ONTAP file systems on AWS. The new integration adds a scalable datastore to VMware Cloud on the AWS Software Defined Data Center (SDDC), a storage that is directly connected to a customer's VPC, allowing direct access to AWS services. Veliswa Boya, senior developer advocate at AWS, explains the benefits of the new integration:
Our customers now have the flexibility to add an external datastore option to support their growing workload needs. If you are running into storage constraints or are continually met with unplanned storage demands, this integration provides a cost-effective way to incrementally add capacity without the need to purchase more hosts. By taking advantage of external datastores through FSx for NetApp ONTAP, you have the flexibility to add more storage capacity when your workloads require it.
There are two account connectivity options for provisioning FSx for NetApp ONTAP as storage for VMware Cloud and both use a dedicated VPC to prevent routing conflicts. Customers can either create a new VPC under the same AWS account and have it connected with the VMware-owned Shadow VPC using VMware Transit Connect, or create a new AWS account and use VMware Transit Connect to attach it with the VMware-owned Shadow VPC.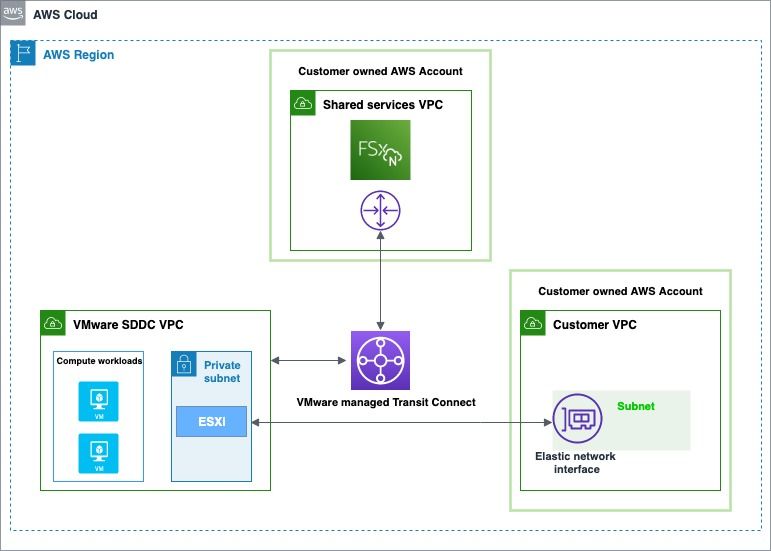 Source: https://aws.amazon.com/blogs/aws/aws-and-vmware-announce-vmware-cloud-on-aws-integration-with-amazon-fsx-for-netapp-ontap/
Greg Knieriemen, director of technology evangelism at NetApp, comments:
Kind of a big deal: VMware customers running on NetApp (or non-NetApp storage!) on premises can now access the enterprise-class public cloud storage services and features of ONTAP, all running on AWS as the first (and so far, ONLY) certified and supported supplemental datastore for VMware Cloud.
Running Amazon FSx for NetApp ONTAP with VMware Cloud was already a popular approach for enterprise deployments on AWS but previously customers could only use VMware VSAN to scale datastore capacity with compute resources. In an article on the NetApp blog, Phil Brotherton, VP of solutions at NetApp, writes:
You can now scale the storage environment as needed without having to purchase more host instances (...) And because the technology is NetApp ONTAP, the processes, services, and IT talent you already use in your on-premises environments can be leveraged in the cloud.
In his newsletter, Coney Quinn does not agree:
A few people are really excited about this; the rest of us genuinely do not understand what the fuss is about. This would have been huge a decade ago; today it's very much solving for a problem that's been routed around in myriad ways.
NetApp published a calculator to determine the cost of running VMware Cloud with the managed storage on AWS. Amazon FSx for NetApp ONTAP is available for VMware Cloud deployments in a subset of AWS regions, including Northern Virginia, Ohio, Ireland and Singapore.