The DevOps Enterprise Summit held its first in-person conference in Las Vegas since 2019 and the pandemic. Jason Cox, director, Global SRE at the Walt Disney Company, and co-author of "Investments Limited", kicked off the conference with a presentation describing how, in the last few years, he developed a world-class centralized shared services Site Reliability Engineering organization based on "proximity-powered empathy engineering" and three core values, "Listen" – "Empathize" – "Actually Help".
Cox leads Disney's Global SRE group, a centralized shared services team providing reliability engineering to the entire company. Shared Services are often not well-integrated, nor appreciated, because they focus on maximizing cost reduction and are not always well aligned with the problems their business and engineers are trying to solve. Cox shared a model he deployed in the last few years, along with the learnings, that enabled his organization to succeed and earn its stakeholders' trust.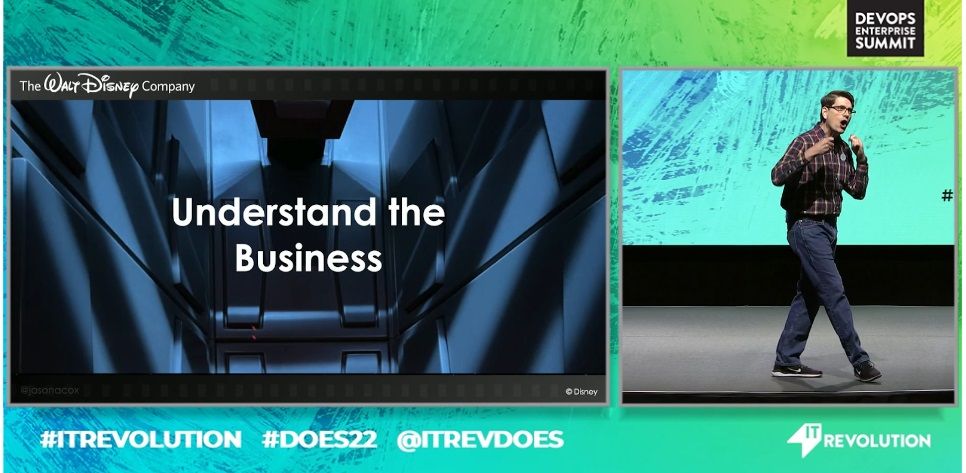 Lesson 1 – Listen: Know the Business - Know the Mission - Know the Team
Know the Business: the first thing to do is to connect with the business and to listen, understand what they need, what their business is about, how they ship their products, and what are the complications they face to get there.
Know the Mission and the Team, because it is equally important to understand their North Star, their vision, and goals, where they are trying to go, and again listen to their teams' struggles along the way.
Lesson 2 – Empathize: Shared Mission - Shared Struggles - Shared Wins
If we want to connect to the business, we need to know their frame of reference, and we can do this by putting ourselves in their shoes. We can better understand and empathize with the problems and challenges they face, and connect as one team, one family. Cox developed a "proximity powered empathy engineering culture" where SRE engineers don't wait for their business to go to them; instead, they go to them. They understand the pains they face and help relieve them by providing real help in real-time.
When we listen and empathize with people, we find out that they are actually looking for help, which leads to the third lesson.
Lesson 3 - Go See and Actually Help: Build Community - Build Trust - Build Magic Together
Do something to help them. If you do, people will come to expect that you can help them and will look forward to seeing you again - Taiichi Ohno.
Cox and his team looked at opportunities where the business needed SRE support and developed an SRE community to network more effectively with all technology groups across Disney. As they embedded with more business areas, the more they were solicited to come and help. That's why, according to Cox, it's very important to:
"Be a community partner not a command tower"
They invested in other areas to build their SRE Community: they contributed to establishing and sustaining the Jedi Engineering Training Academy, a center dedicated to furthering engineering excellence and knowledge sharing; they help technologists connect to other technologies, businesses to businesses, they create opportunities to learn from internal and external experts; they go on location to help ship great products content and experiences, all this with the objective of giving time back to the business, "because, as a shared service, that's really what we should be doing".
Cox and his Global SRE organization put the #1 Agile Value first: Individuals and Interactions over Processes and Tools. In this article, we shared how he fosters a generative culture at Disney that supports his teams and his customers. In the business's own words:
Your team is unbelievable, and I mean that. Thanks to you and your team for stepping in and making this a world-class site. - Creative director, ABC