During the recent Google Cloud Next conference, the cloud provider announced Cross-Cloud Network, a solution to connect applications across different clouds. The new platform aims to simplify multi-cloud networking with a focus on speed and security.
Taking advantage of existing and newly available Google Cloud services, Cross-Cloud Network is a network infrastructure that centralizes security and abstracts workloads deployed in other clouds. It is designed to be an open and programmable networking platform that enables fast and secure connectivity between different clouds and on-prem locations. Muninder Sambi, VP at Google Cloud, writes:
Cross-Cloud Network makes it easier to build and assemble distributed applications across clouds while reducing the total cost of ownership by up to 40%. It does so with products such as Cross-Cloud Interconnect, which we introduced in May, offering a managed interconnect with 10 Gbps or 100 Gbps bandwidth, backed with a 99.99% SLA. It supports Alibaba Cloud, Amazon Web Services, Microsoft Azure, and Oracle Cloud Infrastructure with availability in all our regions to enable you to drive faster business outcomes.
The new service targets the networking requirements of three common multi-cloud workloads: build distributed applications, deliver internet-facing applications, and secure access for the hybrid workforce. It takes advantage of Google's encrypted global network with 187+ PoPs in over 200 countries and territories.
To improve security, Cross-Cloud Networks leverages Cloud Armor, Google Cloud's DDoS defense service and Web Application Firewall, and security products by Palo Alto Networks and Broadcom Symantec. Furthermore, Google announced the preview of Cloud NGFW, a next-generation firewall developed with Mandiant and Palo Alto Networks that claims threat protection with 20x higher efficacy compared to other cloud firewalls.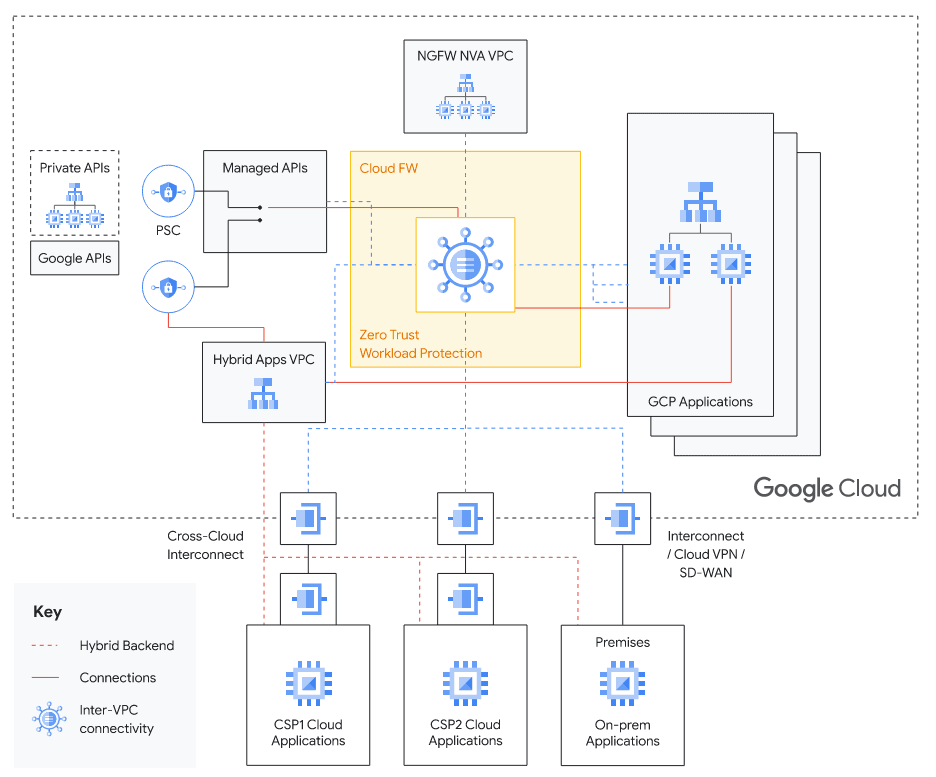 Source: Google documentation
Google Cloud introduced Private Service Connect, a feature to provides connectivity to managed service networking without leaving the Google Cloud network. Other improvements were introduced to existing services to simplify building distributed applications: global access for accessing services across regions, PSC Interfaces for private and secure managed service egress, and organization policies.
To accelerate the delivery of internet-facing applications and customize services such as specialized monitoring or authentication, Cloud Load Balancers announced support for Service Extension Callouts. Sambi explains:
Service Extensions callouts enable organizations to address the unique requirements of their applications (...) and also allow integration of partner solutions for a variety of use cases like API security, Bot management, logging, monitoring etc.
The integration with AWS, Azure, Oracle Cloud Infrastructure, and Alibaba Cloud networks is simplified using the existing Cross-Cloud Interconnect.
According to Google, the Cross-Cloud Network can integrate with any external provider and works in co-locations or on-premises without maintaining any infrastructure. As for the published solution brief, private locations can be connected to the Cross-Cloud Network using IPsec-based HA-VPN tunnels, Partner Interconnect, or Dedicated Interconnect.