Microsoft recently announced a comprehensive refresh of the Well-Architected Framework (WAF) for designing and running optimized workloads on Azure.
Microsoft's WAF is a set of quality-driven tenets, architectural decision points, and review tools intended to help solution architects build a technical foundation for their workloads. The refresh provides not only guidance for making architectural trade-offs for users' workloads, but also gives much more precise instructions on how to implement this guidance within the context of their organization.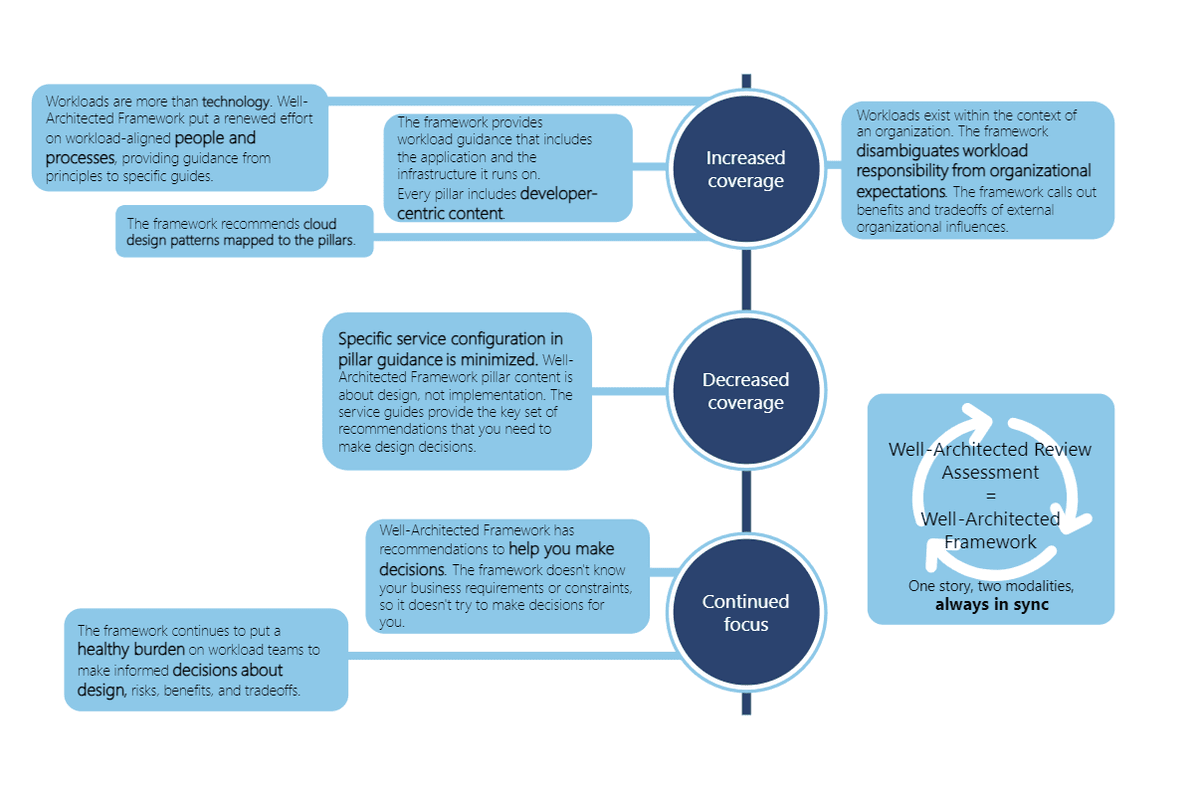 Overview of the refresh of the Well-Architected Framework (Source: Microsoft Website)
Uli Homann, a corporate VP at Microsoft, writes:
Over the past six months, Microsoft's cloud solution architects refreshed the Well-Architected Framework by compiling the learnings and experience of over 10,000 engagements that had leveraged the WAF and its assessment. All five pillars of the Well-Architected Framework now follow a common structure that consists exclusively of design principles, design review checklists, trade-offs, recommendation guides, and cloud design patterns.
The design principles present goal-oriented principles that build a foundation for the workload, the design review checklist roughly codified recommendations that drive action, and the trade-offs describe tradeoffs with other pillars. At the same time, the recommendation guides are associated with one or more design review checklists, and the Cloud design patterns provide designs on proven common architecture patterns.
The refresh is specifically aimed at the "Core Well-Architected Review" option as part of the Well-Architected Review assessment, which now aligns with the new content structure in the Well-Architected Framework. Moreover, as the documentation states, every question in every pillar maps to the design review checklist for that pillar. All choices for the questions correlate to the recommendation guides for the related checklist item.
Stephen Sumner, an architecture content lead at Microsoft, explains in an Azure Architecture blog:
The assessment updates target universal workload design best practices. You can run the assessment on any workload in any platform, not only those in Azure. The assessment covers more aspects of your workload at a deeper technical level.
And:
It has 20+ more unique recommendations (375 total) than the previous version of the assessment, but it also has 124 fewer choices to work through. This means you get more tailored guidance with less input required.
Well-Architected Assessment example (Source: Microsoft Architecture Blog)
The two other big cloud providers, AWS and Google, also offer guidance for their platforms with well-architected frameworks. Moreover, AWS recently updated and restructured its Well-Architected Framework.
Lastly, more details on the refresh are available through the "What's new in the Well-Architected Framework" video.