Architecture & Design
Architecture & Design
Follow
1489 Followers
Welcome to the latest edition of The Morning Paper quarterly review. There are five posts chosen for you that appeared on Adrian Colyer's blog in the first quarter of 2017.
DevOps
DevOps
Follow
526 Followers
This eMag collects articles that explore how to go about scaling DevOps in large organizations – effectively identifying cultural challenges that were blocking faster and safer delivery – and the lessons learned along the way. We include a couple of practices that can help disseminate those lessons.
Data Science
Data Science
Follow
581 Followers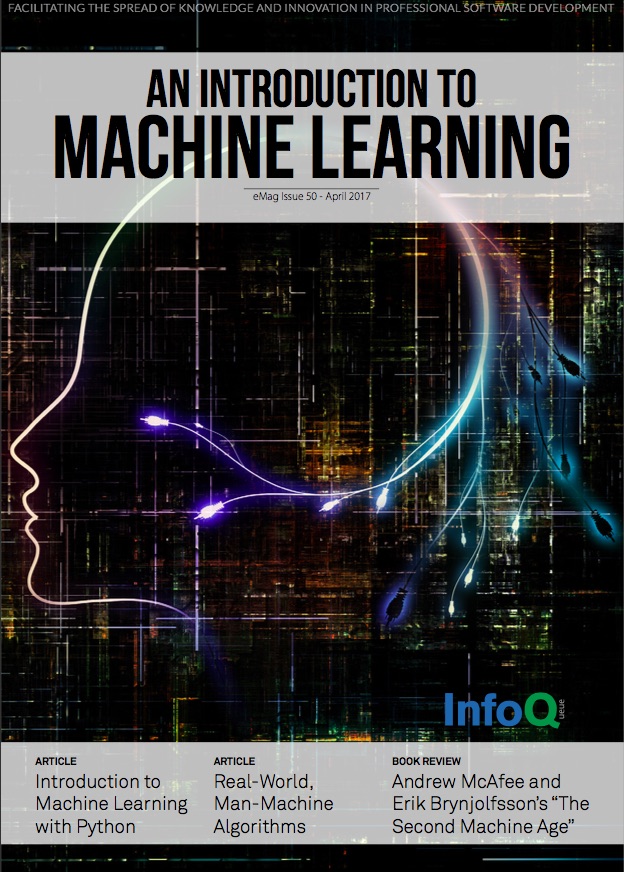 InfoQ has curated a series of articles for this introduction to machine learning eMagazine, covering everything from the very basics of machine learning (what are typical classifiers and how do you measure their performance?) and production considerations (how do you deal with changing patterns in data after you've deployed your model?), to newer techniques in deep learning.
Architecture & Design
Architecture & Design
Follow
1489 Followers
In this issue of The Morning Paper Quarterly Review Adrian Colyer looks at how simple testing can avoid catastrophic failures, symbolic reasoning vs. neural networks, how to infer a smartphone password via WiFi signals, how and why Facebook does load testing in production, and automated SLOs in enterprise clusters.
Data Science
Data Science
Follow
581 Followers
This eMag looks at data science from the ground up, across technology selection, assembling raw and unstructured data, statistical thinking, machine learning basics, and the ethics of applying these new weapons.
Java
Java
Follow
670 Followers
For this Reactive Java emag, InfoQ has curated a series of articles to help developers hit the ground running with a comprehensive introduction to the fundamental reactive concepts, followed by a case study/strategy for mi- grating your project to reactive, some tips and tools for testing reactive, and practical applications using Akka actors.
Architecture & Design
Architecture & Design
Follow
1489 Followers
Adrian Colyer reviews five computer science papers which cover DBSherlock, how Google organises datasets, relaxing the majority quorum requirement in the Paxos Consensus algorithm, the key paper Netflix first looked to for principles on which to build its cloud architecture, and decomposing systems in modules.
Data Science
Data Science
Follow
581 Followers
This eMag focuses on the current state of NoSQL databases. It includes articles, a presentation and a virtual panel discussion covering a variety of topics ranging from highly distributed computations, time series databases to what it takes to transition to a NoSQL database solution.
Architecture & Design
Architecture & Design
Follow
1489 Followers
This eMag takes a look back at five of the most popular presentations from the Architectures You've Always Wondered About track at QCons in New York, London and San Francisco, each presenter adding a new insight into the biggest challenges they face, and how to achieve success. All the companies featured have large, cloud-based, microservice architectures, which probably comes as no surprise.
.NET
.NET
Follow
225 Followers
The C# programming language was first released to the public in 2000. and since that time the language has evolved through six releases to add everything, from generics to lambda expressions to asynchronous methods and string interpolation. In this eMag we have curated a collection of new and previous content that provides the reader with a solid introduction to C# 7 as it is defined today.
Culture & Methods
Culture & Methods
Follow
440 Followers
This book includes a set of cut-and-dried techniques for improving your cooperation with the business. The main goal of this publication is to give you two key skills: discovering the business needs and managing the conversation in a way that will enable you to collect precise and useful information.
Cloud
Cloud
Follow
196 Followers
Technology choices are made, and because of a variety of reasons - such as multi-year licensing cost, tightly coupled links to mission-critical systems, long-standing vendor relationships - you feel "locked into" those choices. In this InfoQ emag, we explore the topic of cloud lock-in from multiple angles and look for the best ways to approach it.