39:00
Followers
Joshua Kerievsky tells us about Anzen and his experience in taking the concept of safety from the manufacturing world and tailoring it to software development teams and organizations. By having ONE core value - safety - teams and organizations can keep from falling into the common pattern of practicing a superficial form of Agile and/or Lean development without getting any of the results.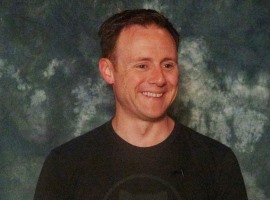 19:06
Followers
Tim Berglund explains GitHub's approach to product owners and product development and how that can (or can not) translate to other companies.
28:18
Followers
Ed Cortis talks about Agile (or whether it is just common sense) in Operations teams as well as sharing his experiences in rolling out an Activity Based Working environment at Bankwest.
34:27
Followers
Neil Killick discusses his background in Agile and his thoughts on estimation in Agile software projects, in particular the discussion around #noestimates.
35:22
Followers
Deb Colden and Tami Carter discuss how they got involved with Innovation Games, how and why they've used them, and how they've dealt with remote participants in their game sessions.
38:24
Followers
Luke Hohmann sits down with InfoQ to discuss the Innovation Games Summit, the history of Innovation Games, and the San Jose 2013 Budget Games
26:41
Followers
Jeremy Lightsmith sits down with us to discuss how Nordstrom is using Lean Startup and Design Thinking to create innovation in a fortune 500 company.
20:16
Followers
Jeff Patton helps teams build better products by helping them understand their users in a more thoughtful manner. By using the principles of comaking, teams begin to take more responsibility for their projects and their outcomes, thereby creating a more streamlined process of meeting their users' needs and having fun while doing it.
34:35
Followers
Brandon Carlson discusses his Agile journey, measurement and some code metrics tools he is working on. He also shares his views on professionalism and the importance of not fearing your customers.

35:23
Followers
Declan Whelan discusses Agile Coaching and the lessons learnt returning to coding as part of a new lean startup as well Agile Coach Camp, pair coaching and his role on the Agile Alliance board.
26:08
Followers
Peter Bell discusses the state of Java today and whether startups are using it or not, polyglot programming, startups in New York, how to keep up to date with technology, and much more.

28:18
Followers
Henrik Kniberg discusses the journey to writing his latest book "Lean from the Trenches", the translation of the Agile Manifesto as well as his recent travels and Lean Startup projects.