01:27:01
Followers
Ryan Gardner focuses on how Dealer.com leveraged the powerful attributes of both Apache ZooKeeper and Spring to rid their application of local configuration files.
48:32
Followers
Armon Dadgar presents Consul, a distributed control plane for the datacenter. Armon demonstrates how Consul can be used to build, configure, monitor, and orchestrate distributed systems.
51:07
Followers
Matthew McCullough examines the last four years of communication culture at GitHub, starting their internal mobile and web apps, use of pull requests, and emoji.
01:01:45
Followers
Brett Meyer demos using multiple-tenancy, geographic data, auditing/versioning, sharding, OSGi, and integration with Hibernate.
50:05
Followers
Zach Holman discusses the various stumbling blocks GitHub encountered as the company grew over the years.
01:30:38
Followers
Charles Bailey takes a look at Git Index's internals, explaining why it is used, what and how is stored in it, and what operations can be used against it.
49:39
Followers
Justin Beckwith introduces several ways to deploy ASP.NET, Node, and PHP applications to Windows Azure, including git deployment, TFS deployment, continuous integration and custom scripts.
01:25:01
Followers
Johan Herland explains how Git does branching and merging in a distributed (and partially disconnected) environment, how to rewrite a commit history, and why staging is useful.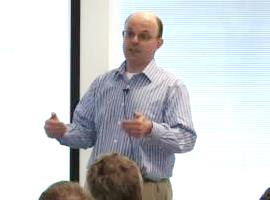 57:41
Followers
Ian Goodsell discusses the challenges encountered with tool versioning and new approaches needed to support continuous delivery.
41:34
Followers
Ignaz Wanders discusses service versioning, compatibility issues, and how to implement the governing process of service versioning.
28:30
Followers
Jesse Newland discusses how GitHub pages were re-written with Erlang, Riak and Webmachine in order to improve their performance.
55:43
Followers
Zach Holman shares insights on creating a happy experience fueling developers' creativity, being inspired by how things are done at GitHub.