Présentations
20:55
Abonnés
Prendre le temps d'analyser la situation en jeu pour en identifier les potentiels non exploités permet un réel passage à l'échelle. Découvrez comment.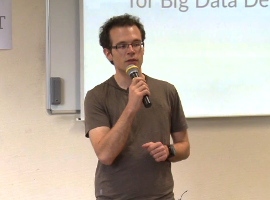 49:17
Abonnés
Reproducible setups for test & deployment are hard. Harder on a cluster. This talk presents lessons learned making a Spark distribution.
44:58
Abonnés
The basic ideas of anomaly detection are simple. You build a model and you look for data points that don't match that model.
37:12
Abonnés
YARN est maintenant intégré dans les distributions majeures d'Hadoop. Cette architecture amène quelques changements importants dans l'architecture d'Hadoop.