Presentations
36:25
JavaScript
JavaScript
Follow
421 Followers
Gunnar Hillert discusses the challenges, experiences and reasons for migrating the Spring Cloud Data Flow Dashboard from using AngularJS 1.x to Angular 4.
55:27
JavaScript
JavaScript
Follow
421 Followers
Jon Harding discusses design patterns and best practices to create scalable applications, build processes to prepare for production and tips to prepare for transitioning to Angular 2.
49:02
JavaScript
JavaScript
Follow
421 Followers
Ari Lerner discusses the options for building next-gen front-end apps, demonstrating how to build and deploy an app using both Angular 2 and React.js.
01:27:22
JavaScript
JavaScript
Follow
421 Followers
Matt Raible compares three JavaScript MVC frameworks: AngularJS, Ember.js and React.js, including client vs. server side templating and how they support isomorphic JavaScript.
01:06:16
JavaScript
JavaScript
Follow
421 Followers
Dustin Whittle discusses the pros and cons of modern UI toolkits like Zurb, Bootstrap, and SemanticUI and modern JavaScript frameworks like React, Angular, and Ember.
58:55
Followers
Mike Hartington introduces Ionic and its components, builds a sample app, and explores the suite of tools and services Ionic provides for hybrid mobile app development.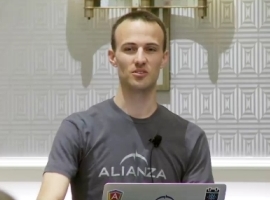 57:09
JavaScript
JavaScript
Follow
421 Followers
Kent Dodds live codes an application using the pre-release alpha version of Angular 2.
01:19:31
Followers
Gunnar Hillert provides an overview of the current landscape and illustrate the choices the Spring XD team has made for its user interface.
01:03:58
Followers
Ken Rimple introduces AngularJS and some of its main features: MVC, expressions, directives, routing.
54:41
Followers
Trisha Gee demoes building a web application using Java, HTML5, Angular.js, Mongo.DB, Groovy and microservices in one hour.
01:29:39
Followers
Ramnivas Laddad and Arjen Poutsma discuss the Spring Scala project and its features, demoing a real REST-based application with a Spring and Scala backend and AngularJS frontend.
44:36
Followers
David Pollak presents Lift's design and how the same design decisions were applied to Clojure/ClojureScript/AngularJS. Lift is a web framework with support for server-push.