Books
Older
Architecture & Design
Architecture & Design
Follow
1506 Followers
While the underlying technology and patterns are certainly interesting, microservices have always been about helping development teams be more productive. Experts who spoke about microservices at QCon SF 2017 did not simply talk about the technical details of microservices. They included a focus on the business side and more human-oriented aspects of developing distributed software systems.
Culture & Methods
Culture & Methods
Follow
447 Followers
Distributed teams are the norm for many organizations today. Companies are global, communications technologies allow people to live away from the "office" location, and many new workers are nomads. Even though most people will acknowledge the wisdom that collocated work is easier, reality is often different. With the advent of new technology, this movement will only grow.
Data Science
Data Science
Follow
592 Followers
In this mini-book, the reader will learn about the Apache Spark framework and will develop Spark programs for use cases in big-data analysis. The book covers all the libraries that are part of Spark ecosystem, which includes Spark Core, Spark SQL, Spark Streaming, Spark MLlib, and Spark GraphX.
Architecture & Design
Architecture & Design
Follow
1506 Followers
For this edition of The Morning Paper Quarterly Review, Adrian Colyer has chosen a set of papers that illustrate what the data natives are up to: how they embed experimentation, optimisation, and learning into everything they do. If you thought continual delivery was the end game, for data natives this is just the necessary pre-requisite.
Architecture & Design
Architecture & Design
Follow
1506 Followers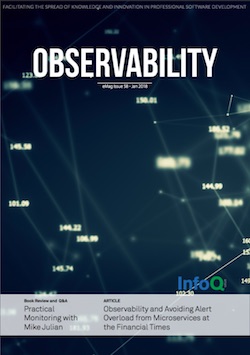 This eMag explores the topic of observability in-depth, covering the role of the "three pillars of observability" -- monitoring, logging, and distributed tracing -- and relates these topics to designing and operating software systems based around modern architectural styles like microservices and serverless.
Architecture & Design
Architecture & Design
Follow
1506 Followers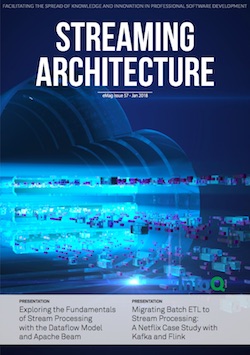 This InfoQ emag aims to introduce you to core stream processing concepts like the log, the dataflow model, and implementing fault-tolerant streaming systems.
DevOps
DevOps
Follow
538 Followers
This DevOps eMag has a broader setting than previous editions. You might, rightfully, ask "what does faster, smarter DevOps mean?". Put simply, any and all approaches to DevOps adoption that uncover important mechanisms or thought processes that might otherwise get submerged by the more straightforward (but equally important) automation and tooling aspects.
Cloud
Cloud
Follow
200 Followers
In this eMag, the InfoQ team pulled together stories that best help you understand this cloud-native revolution, and what it takes to jump in. It features interviews with industry experts, and articles on key topics like migration, data, and security.
Development
Development
Follow
416 Followers
The JHipster Mini-Book is a guide to getting started with hip technologies today: Angular, Bootstrap and Spring Boot. All of these frameworks are wrapped up in an easy-to-use project called JHipster. This book shows you how to build an app with JHipster, and guides you through the plethora of tools, techniques and options you can use.
Architecture & Design
Architecture & Design
Follow
1506 Followers
Subtle production failures running Microsoft Azure, identifying users from aggregated mobile data,  taking over a city with Philips Hue lightbulbs, processing a trillion edge graph on a single machine, and why Rust should be your systems language of choice.
JavaScript
JavaScript
Follow
242 Followers
This eMag is meant to give an easy-going, yet varied introduction to reactive programming with JavaScript. Modern web frameworks and numerous libraries have all embraced reactive programming. The rise in immutability and functional reactive programming have added to the discussion. It's important for modern JavaScript developers to know what's going on, even if they're not using it themselves.
Cloud
Cloud
Follow
200 Followers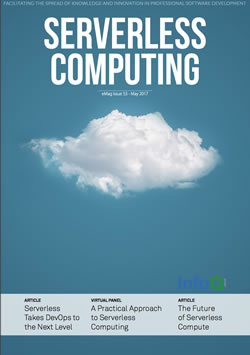 In this InfoQ eMag, we curated some of the best serverless content into a single asset to give you a relevant, pragmatic look at this emerging space.