Interviews
33:02
Followers
William Byrd explains the ideas behind logic programming languages (like Prolog) and relational programming. Also: miniKanren and core.logic, program synthesis, and much more.
20:06
Followers
Timothy Baldridge explains the concepts behind Clojure's core.async, the programming model, the macro implementation, using core.async in Clojure and ClojureScript and much more.
21:36
Followers
Felix Klock II explains Parallel JavaScript (née RiverTrail): how it brings parallelism to JavaScript, what data structures and types it supports, how it relates to ECMAScript 6 specs and much more.
41:33
Followers
Deepak Giridharagopal explains the config management and automation tool Puppet, the concept of Immutable Deployments, and how Puppet DB (written in Clojure) allows to monitor and query systems managed with Puppet. Also: why PuppetDB is written in Clojure.
38:18
Followers
Felix Klock II explains concepts of the Rust language: the concurrency model, the type system, allocation and ownership models, the macro system, its style of FP and OOP, and much more.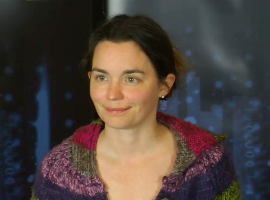 39:52
Followers
Jessica Kerr explains the reasons to use Scala (best of FP and OOP worlds), scalaz, I/O and async programming with scalaz-stream, property-based testing with ScalaCheck, and much more.
22:09
Followers
Francesco Cesarini and Viktor Klang explain the motivation behind the Reactive Manifesto and what exactly it brings to the table. Also: what Erlang and Scala/Akka can learn from each other.
29:36
Followers
Cliff Click explains 0xdata's H20, a clustering and in-memory math and statistics solution (available for Hadoop and standalone), writing H20's memory representation and compression in Java, low latency Java vs GCs, and much more.