Presentations
Older
42:21
AI, ML & Data Engineering
AI, ML & Data Engineering
Follow
869 Followers
Paul Dix shares his experience building InfluxDB, an open source distributed time series database, in Go.
54:49
Architecture & Design
Architecture & Design
Follow
2102 Followers
Oren Eini discusses the building blocks of a reliable, transactional distributed database, covering ACID compliance, consistency, failure handling, monitoring, management, and more.
53:05
Followers
Howard Chu covers highlights of the LMDB design and discusses some of the internal improvements in slapd due to LMDB, as well as the impact of LMDB on other projects.
52:33
Followers
Stuart Sierra provides an introduction to Datomic's data model, architecture, query syntax, and transactions.
41:26
Followers
Craig Andera explains Datomic from the perspective gained in implementing and optimizing a real-world production system, detailing the Datomic indexing process.
55:39
Followers
John Davies walks through a reference implementation of a in-memory database meant to combine dozens of different legacy databases developed by banks over time.
51:56
Followers
Ori Herrnstadt introduces the Akiban database which solves the problem of joins and combines the best of relational and document databases.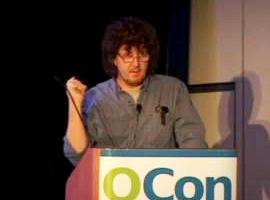 48:30
Followers
Rich Hickey deconstructs the monolithic database into separate services, transactions, storage, query, combining them with a data model based on atomic facts to provide new capabilities and tradeoffs.
45:35
Followers
Zardosht Kasheff suggest using 3 rules for indexing SQL databases: Retrieve less data, Avoid point queries, and Avoid sorting.
01:01:30
Followers
Rich Hickey introduces Datomic, including architectural and implementation details.
59:56
Followers
Rich Hickey discusses the complexity introduced by a database into a system, and a way to deal with it by using Datomic. He also discusses immutability, epochal time, and persistent data structures.
54:41
Followers
Rich Hickey discusses the design decisions made for Datomic, a database for JVM languages: what problems they were trying to solve with it, the solutions chosen, and their implementations.