57:54
Followers
Sander Hoogendoorn shares patterns to avoid framework issues by using layered architectures, bridge patterns, managers-providers, DI, descriptors and layer super-types, including code samples.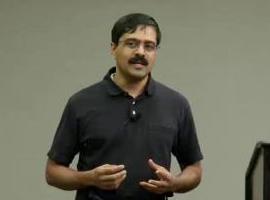 01:29:04
Followers
Venkat Subramaniam shows how to implement several design patterns, including some GoF ones, using Groovy's dynamic nature and closures.
01:28:50
Followers
Dan Woods discusses using Spring Integration and design patterns to implement a message-driven architecture in Grails to allow for better modularity, scalability, and code reusability.
01:23:40
Followers
Tobias Darm discusses how some of the GoF patterns can be implemented differently in C++11 using Boost libraries.
49:23
Followers
Siva Raghupathy discusses DynamoDB Design Patterns & Best Practices for realizing DynamoDB benefits at the right cost.
48:51
Followers
Saul Mora discusses using some of the patterns from the Design Pattern book today, and applying patterns in a multicore world.
49:30
Followers
Jeremy Cloud discusses SOA at Twitter, approaches taken for maintaining high levels of concurrency, and briefly touches on some functional design patterns used to manage code complexity.
42:15
Followers
Stuart Sierra discusses several design patterns implemented in functional languages, in particular Clojure: State/Event, Consequences, Accumulator, MapReduce, Reduce/Combine, Recursive Expansion, etc.
46:52
Followers
Jesse Wilson introduces Dagger, a dependency injection framework for Java, covering the motivation behind its creation, examples on how to use it and some of the internal details.
01:30:06
Followers
Brian Cavalier and John Hann discuss applying concepts like modules, DI, IoC to JavaScript.
52:51
Followers
Bob Lee presents persistence queues, the technology stack, the publish-subscribe pattern and dependency injection as used by Square.com.
56:30
Followers
Rob Daigneau discusses some of the challenges met when creating and maintaining web APIs, impediments and design patterns for web API evolution.