Presentations
50:21
JavaScript
JavaScript
Follow
427 Followers
Paul Betts discusses Electron, a platform for writing cross-platform Desktop apps, explaining how to start writing apps, how to integrate web UI libraries and languages, and others.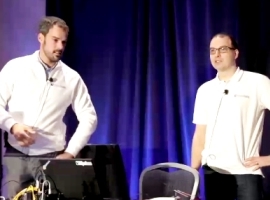 36:41
Followers
Jonas Helming, Maximilian Koegel develop a simple client-server app using a variety of Eclipse frameworks and producing 10 different versions of the same client running on the multiple platforms.
01:05:11
Followers
Elan Lennard discusses porting a desktop app to a mobile device: choosing the functionality that makes sense, make it look great, and deciding between native and HTML5.
35:05
Followers
Roger Attrill discusses various UX features to be considered when transitioning from desktop to mobile, including user types, constraints, opportunities, content organization, layout and navigation.
56:03
Followers
Jonathan Chambers discusses developing desktop applications in Mono: why develop and history of desktop apps, examples of such apps, and how to call native code.