46:17
Followers
Ryan Cromwell introduces Elixir, a , functional distributed meta programming language inspired by Ruby and compiling to Erlang VM, covering pattern matching, pipelines and tail-call recursion.
41:55
Followers
Jamie Allen describes three patterns using Akka actors: handling a lack of guaranteed delivery, distributing tasks to worker actors and implementing distributed workers in an Akka cluster.
01:03:55
Followers
Jonas Bonér, Francesco Cesarini discuss the evolution of distributed concurrent thinking along with the problems it has to solve and the toolchains created along the way.
42:06
Followers
Heather Miller presents attempts at better supporting distributed programming in Scala, including a new fast pickling framework, as well as Spores - composable pieces of mobile functional behaviour.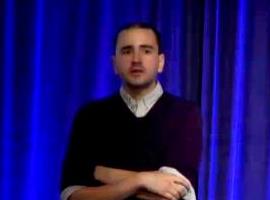 46:49
Followers
Brenden Matthews describes the infrastructure built at Airbnb using Mesos in order to support Hadoop and Storm.
44:03
Followers
Nathan Marz shares lessons learned building Storm, an open-source, distributed, real-time computation system.
51:48
Followers
Nathan Marz introduces Twitter Storm, outlining its architecture and use cases, and takes a look at future features to be made available.
40:41
Followers
Amit Rathore describes the architecture of Zolodeck, a virtual relationship manager built on Clojure, Datomic, and Storm.
48:41
Followers
Dean Wampler discusses the strengths and weaknesses of MapReduce, and the newer variants for big data processing: Pregel and Storm.
42:26
Followers
Nathan Marz discusses Storm concepts –streams, spouts, bolts, topologies-, explaining how to use Storms' Clojure DSL for real-time stream processing, distributed RPS and continuous computations.
49:37
Followers
Nathan Marz explain Storm, a distributed fault-tolerant and real-time computational system currently used by Twitter to keep statistics on user clicks for every URL and domain.
01:29:09
Followers
David Syer and Mark Fisher on using Spring to develop concurrent and distributed apps, covering topics such as: asynchronous execution, intra-process, inter-process and inter-JVM communication.