36:10
Followers
Bryan Hunter introduces CQRS and one of its implementations done in Erlang, outlining the areas where Erlang shines.
53:41
Followers
Simon Thompson shows the particularities of functional programming refactoring through examples in Haskell and Erlang, and discusses what lays ahead for FP refactoring in the next 10 years.
39:14
Followers
Chad DePue presents the process of building Edis, a Redis clone written in Erlang, allowing pluggable backends and implementing the Paxos algorithm.
39:21
Followers
Anthony Eden explains why they chose to use Erlang for an authoritative DNS, how Erlang helped along the way and some of the challenges faced.
05:38
Followers
Reid Draper discusses lessons learned from Erlang that can be applied to Clojure (lighting talk).
01:10:21
Followers
Joe Armstrong outlines the architectural principles needed for building scalable fault-tolerant systems built from small isolated parallel components which communicate though well-defined protocols.
48:37
Followers
David Craelius tells the story of Klarna building an online payment system in Erlang and their approach to solving the nightmare of technical debt accumulated during a period of fast expansion.
52:15
Followers
Torben Hoffmann looks at the status of Erlang using the technology life cycle lenses of Geofrey More and in particular discuss if Erlang is before, in or after the Chasm.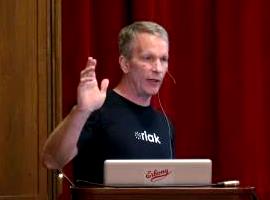 53:30
Followers
Steve Vinoski overviews Yaws with code samples to highlight some of its features. Steve also discusses internals of Yaws, and how powerful Erlang can be for web development and distributed systems.
29:26
Followers
José Valim introduces Elixir, a programming language for the Erlang VM – an attempt to provide better abstractions and productivity tools like protocols and macros usually required for web development
49:37
Followers
Garrett Smith discusses building reliable systems starting with lessons from Erlang, then outlining a set of principles and the practices for applying them in languages such as Ruby, Python, and Java.
28:30
Followers
Jesse Newland discusses how GitHub pages were re-written with Erlang, Riak and Webmachine in order to improve their performance.