Presentations
Older
01:01:14
.NET
.NET
Follow
458 Followers
Kevin Pilch discusses improvements in VS 2017: performance improvements in startup and solution load, editing, code style, quick fixes, refactorings, unit testing, debugging, deployment, and more.
50:47
JavaScript
JavaScript
Follow
475 Followers
Kevin Grossnicklaus discusses how to get started with WebPack, how to configure Visual Studio for it and some of the best practices for utilizing it with Angular2 or React.
01:01:08
Java
Java
Follow
1209 Followers
Stephane Nicoll and Yann Cebron talk about how to navigate, edit and perform refactorings across a variety of common Spring technologies.
27:23
Development
Development
Follow
780 Followers
David Staheli discusses approaches Microsoft is taking to plugin development, sharing experiences in reusing code across plugins for different IDEs, with demos of plugins in Eclipse, IntelliJ, and VS.
01:13:13
Java
Java
Follow
1209 Followers
Yann Cébron and Stéphane Nicoll take a look at some features from IntelliJ IDEA that help one get started with Spring Boot, dealing with configuration management and be more efficient.
01:21:47
Big Data
Big Data
Follow
155 Followers
Felienne Hermans presents various algorithms that outlining the power of Excel, showing that spreadsheets are fit for TDD and rapid prototyping.
20:14
Followers
The presenters introduce CheckCell, an Excel add-on used to identify cells that have an unusually high impact on the spreadsheet's computations.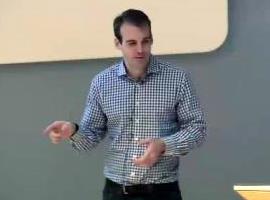 52:01
Followers
Matthew Moloney discusses using F# and .NET inside Excel, demonstrating doing big data, cloud computing, using GPGPU and compiling F# Excel UDFs.
01:19:20
Followers
Andrey Cheptsov explores some of the IntelliJ IDEA's tricky features helping Groovy&Grails developers to be more productive.
54:23
Followers
Zef Hemel introduces the Cloud9 JavaScript IDE, especially the static analysis library including inline error and warning highlighting, the rename refactoring and code completion.
01:01:41
Followers
Erik Onnen attempts to demonstrate that Java is still the best programming language for the JVM if simplified idioms are used along with proper tooling.
01:14:11
Followers
Joel Semeniuk shares some of the lessons he learned managing development teams, how he got into Kanban and why its principles are helpful.