43:36
Followers
Jack Hubbard presents a case study of how is life at PropellerNet, explaining why Propellernet is officially the best small company to work for in the UK.
41:54
Followers
Trevor Owens takes an in-depth look at the methodologies, tools, and incentive structures that are guiding some of the word's largest organizations to reclaim their innovation progress.
40:31
Followers
Sam McAfee focuses on quantitative risk modeling approaches exploring how to bring scientific rigor back into the Lean Startup process with Monte Carlo simulations and Cost of Delay scenarios.
41:12
Followers
Glen Ford discusses how Zeebox applies and refines Lean: methods, experiments, discovery and feature teams, cultural challenges, innovation, etc.
45:25
Followers
Emma Langman explores the usefulness of some of the Quality tools that have been around since the 50s for gathering requirements, tackling repeat problems, or innovating more efficiently as a team.
30:30
Followers
Annemie Ress details 10 actions that help organizations to unlock innovation, addressing 3 themes – fear, language and motivation – which have an impact on their culture of innovation.
56:41
Followers
Karin Verloop discusses how to structure for innovation in a repeatable, practical and affordable way, addressing: the 3 levels of innovation, investing in innovation, a sustainable digital framework.
48:25
Followers
Gilad Bracha ponders how Lisp, Simula, Actors, Beta, Smalltalk and Self give us C++, Java, Javascript, Perl, Python and PHP, speculating what new wonders await programmers down the road.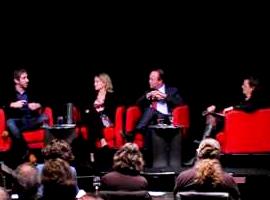 40:02
Followers
The panelists discuss innovation at the enterprise level avoiding the business' constant volatility.
39:11
Followers
Ted Tencza shares lessons learned innovating at Atlassian and Bigcommerce, including programs that worked (FedEx/ShipIt/Hackathons, 20% time) and programs that failed (dedicated Innovation Team).
57:23
Followers
Luke Hohmann keynotes on what creates, causes, enables, and promotes software innovation.
37:32
Followers
Roman Pichler shares insight on Agile practices that can improve innovation, discussing the innovation stages and how product ownership, process, and project setup are influenced by uncertainty.