Interviews
28:42
Culture & Methods
Culture & Methods
Follow
806 Followers
Mik Kersten talks about current and future trends in ALM and the support for approaches like large scale Agile, DevOps, Docker, Big Data, functional languages and the Internet of Things.
16:22
Followers
Camille Fournier explains how Rent the Runway uses software and data science to handle a massive shipping and warehouse operation, modelling inventory life cycles, optimising shipping and much more.
36:06
Followers
The Internet of Things is becoming a part of our lives right now - we are measuring health, we are connecting to our cars, we can open our front door while being half-way around the globe. And while we can benefit from all the sensors and actors around us, there is also a big risk of losing control and data. Paul Fremantle shares some knowledge on potential threads and what we can do about them.
12:51
Followers
Recorded at EclipseCon NA 2015, Benjamin Cabé talks to Alex Blewitt about the state of the Internet of Things at Eclipse, including newly released and recently created projects under the IoT umbrella at Eclipse, as well the importance of having a neutral body to provide a hub for commercial organisations.
22:32
Followers
Yodit Stanton explains IoT: existing use cases of connected sensors and data processing, the various aspects of IoT security, programming systems, and OpenSensors for accessing and publishing data.
18:54
Followers
The Internet of Things is right around the corner and it's very much about connected devices, sensors and gathering and leveraging data. The Tessel Board is programmable in JavaScript and makes it extremely easy to try out programming connected devices, send sensor data to the cloud or even control your elevator with a text message. And there's more to expect in the future, Jon tells us.
22:35
Followers
The Internet of Things is just around the corner and it will massively impact our lives. Most of the devices in our homes will become connected and collect data or react to certain events. Currently it is still uncertain, how personal data can be protected and leveraged for crowd sourcing and swarm intelligence at the same time. Jacob is sharing the ideas that his company Yetu has to clarify this
13:53
Followers
Todd Montgomery talks about the Internet of Things: what it is and is not, looking at languages and protocols that will be useful, concurrency, manual memory management vs GC, and much more. Also: Kaazing's Nuklei project.
22:01
Followers
Dave McCrory explains how he coined the term 'data gravity', and how he expects the rise of data related microservices to deal with its consequences. He also gives an overview of Basho's Riak version 2, and what else can be expected from that platform in nearby releases.
24:36
Followers
Nick O'Leary talks about the creation of Node-RED, a tool for wiring together the Internet of things that he built on top of Node.js using a number of open source web frameworks. He also discusses open source hardware, the importance of open APIs and the rise of MQTT as an alternative to HTTP for IoT applications.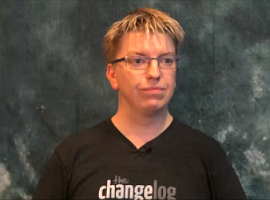 21:01
Followers
Andy Piper, lead of the Eclipse Paho project, talks about the evolving internet of things landscape at the Eclipse foundation and the future of MQTT, including what MQTT clients and brokers are available at the Eclipse foundation and plans for this summer's release