Presentations
31:15
Followers
David Nolen keynotes on how developers learn as seen in a number of diverse examples drawn from objected oriented user interface programming to constraint logic programming.
45:46
Followers
Daniel Spiewak discusses how modern languages such as Scala, Clojure, and Haskell have moved beyond the simple lambda calculus paradigm, being better suited for large application architectures.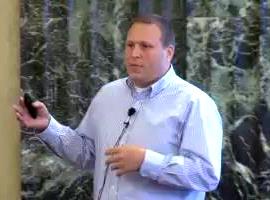 27:15
Followers
Creighton Kirkendall discusses how polymorphism is implemented in Clojure, Ocaml, Haskell and Scala.
40:03
Followers
Carin Meier shares from her experience doing functional programming in Clojure for flying robots.
50:44
Followers
Gerald Sussman explains how programming can help understand Analytical Mechanics, Differential Geometry, and General Relativity. While a work of art, a well-crafted program is an expression of an idea
37:54
Followers
Chris Ford shows how to make music starting with the basic building block of sound, the sine wave, and gradually accumulating abstractions culminating in a canon by Johann Sebastian Bach.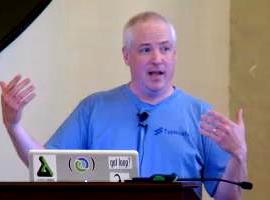 40:06
Followers
Jim Powers presents ways to use functional programming techniques and the new Async framework for Scala to regain compositionality while retaining the power of the model.
40:19
Followers
Ben Christensen explains how Netflix optimizes server's interaction with more than 800 client devices by creating customized concurrent service endpoints with RxJava and Hystrix.
01:10:21
Followers
Joe Armstrong outlines the architectural principles needed for building scalable fault-tolerant systems built from small isolated parallel components which communicate though well-defined protocols.
46:43
Followers
Dean Wampler supports using Functional Programming and its core operations to process large amounts of data, explaining why Java's dominance in Hadoop is harming Big Data's progress.
41:57
Followers
Kevin Scaldeferri reports on using Scala for an SBT plug-in, for unit and functional testing, type-safe shared configuration using Zookeeper, and live inventory with WebSocket and Akka Actors.
40:33
Followers
Stuart Sierra introduces some general guidelines for designing systems which make their data and abstractions more transparent to developers, using code examples in Clojure.