Presentations
Older
34:34
Followers
Arjan van der Meer explains how to perform Analytical Software Design interface compliance using Microsoft Spec Explorer.
42:21
Followers
Chung-Yeung Pang shares from his experience applying MDD and Agile to various projects.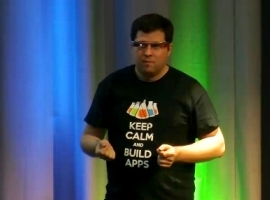 01:00:19
Followers
Pedro Molina presents the challenges, benefits and limitations creating a cloud-based DSL tool. A demo of such a tool is included.
46:36
Followers
Michael Rauch and Christoph Gutmann explain how Eclipse Modeling technology is successfully applied to establish forward engineering in the domain of technical SOA.
01:12:58
Followers
Jürgen Mutschall ponders what is to be done to make MDSD a mandatory development methodology for every large scale project.
01:01:03
Followers
Darius Silingas reviews multiple real-world MDA cases by presenting the problems faced, analyzing what went wrong, and suggesting how to address similar issues in your projects and organizations.
19:51
Followers
Daniel Rahon, Sébastien Schneider, Raphael Gayno, Jean Marc Gratien, Goulwen Le Fur present the process used in the development of distributed scientific applications at IFP Energies Nouvelles, France
01:12:58
Followers
Juha-Pekka Tolvanen provides advice and information useful for convincing colleagues and managers why MDD is worth using for development.
01:15:22
Followers
Darius Silingas emphasized the need for quality models in MDD, presenting a number of anti-patterns along with best practices for creating them.
51:27
Followers
Steven Kelly and Risto Pohjonen continue their hands-on session developing apps with MetaEdit+. (see: Moving From Coding To Model-Driven Development: Hands-On with MetaEdit+, Part 1)
01:18:37
Followers
Risto Pohjonen and Steven Kelly conduct a hands-on session using MetaEdit+ to create several graphic DSLs.
33:41
Followers
Matt Wynne discusses Mortgage-Driven Development and adopting other people's tools and processes without adaptation or consideration to actual needs.