Presentations
39:06
AI, ML and Data Engineering
AI, ML and Data Engineering
Follow
641 Followers
Diego Klabjan discusses models, implementations, and challenges developing applications for trading, forecasting, and healthcare, detailing relevant models and issues adopting and deploying them.
46:36
AI, ML and Data Engineering
AI, ML and Data Engineering
Follow
641 Followers
Micha Gorelick shows how to build a working product with Keras, a high-level deep learning framework, discussing design decisions, and demonstrating how to train and deploy a model.
38:49
AI, ML and Data Engineering
AI, ML and Data Engineering
Follow
641 Followers
Scott Clark introduces Bayesian Global Optimization as an efficient way to optimize ML model parameters, explaining the underlying techniques and comparing it to other standard methods.
44:51
Culture & Methods
Culture & Methods
Follow
484 Followers
Marcin Floryan discusses the Spotify engineering culture.
44:42
Followers
Allan Kelly examines the project model and shows why it does not match software development, outlining an alternative to the project model and what companies need to do to achieve it.
33:59
Followers
Jevgeni Kabanov discusses the results of a research on a delivering software model, the tools involved and the model itself, concluding on what one can expect from using certain tools.
38:46
Followers
Jenny Finkel showcases Prismatic's use of machine learning and language processing to provide targeted content to their users based on a model built on users' way of interacting with their website.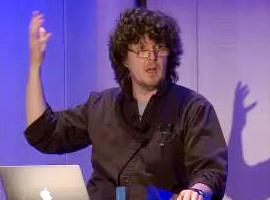 49:55
Followers
Rich Hickey discusses how a functional database can impact the programming model, using Datomic as an example, but the principles apply to other systems using an immutable database.
54:26
Followers
Bjarte Bogsnes discusses Beyond Budgeting and tackling budgeting issues in traditional management, the Statoil "Ambition to Action" management model with implementation experiences and advice.
19:34
Followers
Michael Hansen presents the ACT-R cognitive architecture, a simulation framework for psychological models, showing how it could be used to measure the impact of various programming paradigms.
01:00:50
Followers
George Fairbanks stresses the importance of having a good grasp of various conceptual models in order to be a master-builder, translated into development as "learn your software architecture".
01:01:40
Followers
Don Reinertsen outlines the need for using an economic model for development, explaining what that is emphasizing the cost of delay, how an economic model looks like, how to build and use one.