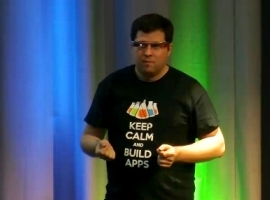 01:00:19
Followers
Pedro Molina presents the challenges, benefits and limitations creating a cloud-based DSL tool. A demo of such a tool is included.
01:13:45
Followers
Juha-Pekka Tolvanen keynotes on what modeling languages and generators are more helpful and cost effective.
34:14
Followers
Volker Pacher, Sam Phillips present key differences between relational databases and graph databases, and how they use the later to model a complex domain and to gain insights into their data.
01:25:43
Followers
The authors share insights from their experience building DSLs for business people.
28:07
Followers
Ted Epstein shows how a shared canonical model can make life easier for API consumers, while still allowing the flexibility to expose different services, with different contextual requirements.
35:16
Followers
Catherine Havasi, Rob Speer discuss and exemplify how to quantify Natural Language Processing with concept-based text understanding, modelling what people think about our world.
01:30:30
Followers
Gilles Di Guglielmo and Julien Baudry present patterns for solving UI issues –large forms, linked form fields, conditional field display, dynamic list content, incremental validation-, using modeling.
46:36
Followers
Michael Rauch and Christoph Gutmann explain how Eclipse Modeling technology is successfully applied to establish forward engineering in the domain of technical SOA.
01:12:58
Followers
Jürgen Mutschall ponders what is to be done to make MDSD a mandatory development methodology for every large scale project.
01:01:03
Followers
Darius Silingas reviews multiple real-world MDA cases by presenting the problems faced, analyzing what went wrong, and suggesting how to address similar issues in your projects and organizations.
49:08
Followers
Tony Tam shares tips for modeling data with MongoDB for a fast and scalable system based on his experience migrating billions of records from MySQL to MongoDB.
19:51
Followers
Daniel Rahon, Sébastien Schneider, Raphael Gayno, Jean Marc Gratien, Goulwen Le Fur present the process used in the development of distributed scientific applications at IFP Energies Nouvelles, France