Presentations
01:07:33
Followers
Molham Aref introduces LogicBox, a database that unites declarative programming (logic-based specifications) with cloud deployment over large datasets using the Datalog programming language.
01:05:52
Followers
Philipp Haller explains how to make Rx programming more natural and intuitive by generalizing Scala's Async which, so far, has been used to program with non-blocking futures in a familiar direct style
48:25
Followers
Gilad Bracha ponders how Lisp, Simula, Actors, Beta, Smalltalk and Self give us C++, Java, Javascript, Perl, Python and PHP, speculating what new wonders await programmers down the road.
42:10
Followers
Keith Adams examines the strengths that made PHP a dominant language in its niche, highlighting Facebook's attempts at remedying its inconsistencies and misfeatures while maintaining its strengths.
58:45
Followers
The authors introduce a new language paradigm meant to enhance OOP with multi-dimensional context, providing details on context-based dispatch, and showing a glimpse of their early prototype.
48:45
Followers
Gilad Bracha presents the motivation behind building Dart, the current state of the Dart platform and where it is heading to.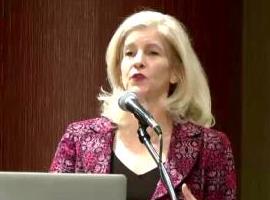 57:47
Followers
Kathryn S. McKinley discusses research approaches and results that abstract, choose, and exploit hardware heterogeneity providing computational power at low energy consumption levels.
25:52
Followers
Daniel Cukier shares insight in using cloud services to scale web applications, dealing with load balancing, session sharing, email, asynchronous processing, logging, monitoring, CD, RUM, etc.
55:27
Followers
Luke Hoban introduces TypeScript and its implications for writing web applications and creating supporting tooling.
46:05
Followers
Indrajit Roy presents HP Labs' attempts at scaling R to efficiently perform distributed machine learning and graph processing on industrial-scale data sets.