01:23:38
Followers
The speakers explore the role of ZooKeeper, Spring Integration, and Spring Boot through beautiful panoramas, code samples, and demonstrations.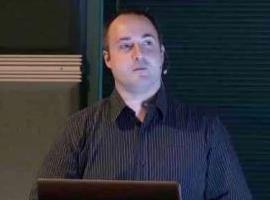 01:30:44
Followers
Mike Wiesner advises on dealing with security tradeoffs when creating Servlet Container, Spring MVC or Spring Integration type of applications.
01:21:25
Followers
Gunnar Hillert and Gary Russell introduce Spring Integration and Spring Batch, how they differ, their commonalities, and how you can use them together.
01:29:34
Followers
Tom McCuch and Oleg Zhurakousky explain and demo providing messaging for distributed systems with Spring AMQP, Spring Integration and RabbitMQ.
01:17:45
Followers
Gary P Russell shows an application used for managing and monitoring apps built with Spring Integration, and overviews the JMX support provided by Spring Integration.
01:26:22
Followers
Oleg Zhurakousky demoes performing transaction management, error handling, asynchronous processing, advanced aggregator configuration, etc. using Spring Integration and enterprise integration patterns
52:12
Followers
John Davies examines Visa's architecture and shows how enterprises have architected complex integrations incorporating Hadoop, memcached, Ruby on Rails, and others to deliver innovative solutions.
01:33:00
Followers
John Davies discusses enterprise scenarios where Spring Integration fits and some where it needs additional help from solutions such as SWIFT from C24 Integration Objects.
01:26:55
Followers
Gary Russell and David Turanski discuss creating HA architectures with Spring Integration using Cluster Controller and Strict Message Ordering, accompanied by demoes.
01:29:09
Followers
David Syer and Mark Fisher on using Spring to develop concurrent and distributed apps, covering topics such as: asynchronous execution, intra-process, inter-process and inter-JVM communication.
01:26:07
Followers
Mark Fisher and Oleg Zhurakousky present what's new in Spring Integration 2: Sprint 3 features used, enterprise integration patterns, channel adapters, tooling support, and what lies beyond 2.0.
01:24:12
Followers
Matthias Radestock introduces messaging, AMQP and RabbitMQ. Mark Fisher and Mark Pollack present and demo Spring AMQP, an abstraction layer for using AMQP independently from the broker implementation.