Presentations
40:47
Followers
Attila Bozso, Balazs Fejes share their experiences about growing EPAM's Hungarian presence from zero to almost a thousand employees: startup process, recruiting talent, building middle management, etc
30:30
Followers
Annemie Ress details 10 actions that help organizations to unlock innovation, addressing 3 themes – fear, language and motivation – which have an impact on their culture of innovation.
33:51
Followers
Andreas Ehn discusses the role of the modern manager in an organization where the domain experts have a major role in the decision making process.
31:22
Followers
Oren Ellenbogen shares 5 pragmatic and actionable ways to boost one's management skills.
40:27
Followers
Andrew Stellman affirms that having great teams with a collaborative mindset takes more than great people, visionary leaders and good organizers, providing insights into what needs to be added.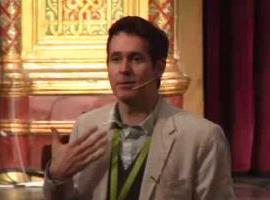 45:13
Followers
Dario Nardi shares key insights on how the brain works and suggestions on tapping the power of individuals' talents in order to be put together at work.
40:21
Followers
Brendan Marsh and Kristian Lindwall present what they believe an Agile Coach is, give some insight into the daily life of an Agile Coach at Spotify & explain why they believe Coaches help others win.
48:19
Followers
Francois Mazoudier shares some of the stories he came across while building businesses from scratch to IPO, academic models he developed and several real life examples.
42:25
Followers
Andrew Clay Shafer discusses how leadership and organizational learning can be used as a competitive advantage, covering various topics: Agile, DevOps, Lean Startup, Cynefin, Systems Thinking, etc.
37:23
Followers
Sarah Novotny discusses how leaders encourage and foster an environment that rewards learning while meeting business needs.