42:23
Followers
Halle Winkler overviews the state of speech technology, examining the opportunities in usability and new forms of usage that become available with speech interfaces in mobile apps.
52:01
Followers
Terena Bell underlines the importance of designing applications for multiple languages including right-to-left ones in an age of rapid globalization.
50:33
Followers
Jennifer Hayes, Adam Archer present how they built a mixed team (local&remote) to learn the practice of design studios, making them an integral part of doing UI design.
40:29
Followers
Craig Muth demoes using a simple text syntax to create tool interfaces for git, MySQL, MongoDB, Rails, Node.js, etc. with Xiki.
24:36
Followers
Sergey Bolshchikov discusses building complex UIs with Ember.js by combining Handlebars templates and Ember.View.
01:30:30
Followers
Gilles Di Guglielmo and Julien Baudry present patterns for solving UI issues –large forms, linked form fields, conditional field display, dynamic list content, incremental validation-, using modeling.
41:45
Followers
Paul Lammertsma conducts a hands-on workshop on creating custom components for Android applications, providing best practices for accessibility, measuring and memory management.
31:15
Followers
David Nolen keynotes on how developers learn as seen in a number of diverse examples drawn from objected oriented user interface programming to constraint logic programming.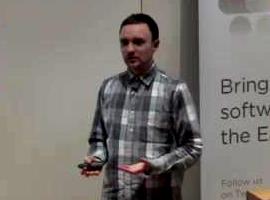 40:32
Followers
Jan Srutek explores ways to apply what we know about how the mind works from cognitive psychology in daily UX and user interface design.
27:17
Followers
Kevin Lynagh provides the rationale behind visual interfaces, and presents a sample example written in ClojureScript.
01:28:02
Followers
Craig Walls reviews several JavaScript client-side UI frameworks: Backbone.js, Spine.js, Knockout, Knockback, Sammy.
46:05
Followers
Eric Burke discusses: why building visual interfaces, design guidelines for Android apps, and an example.