Presentations
30:04
Followers
Paul Glavich discusses design decisions to be made when building a new API regarding versioning, hypermedia usage, authentication and other aspects.
01:01:45
Followers
Brett Meyer demos using multiple-tenancy, geographic data, auditing/versioning, sharding, OSGi, and integration with Hibernate.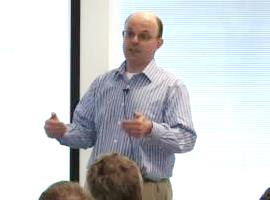 57:41
Followers
Ian Goodsell discusses the challenges encountered with tool versioning and new approaches needed to support continuous delivery.
41:34
Followers
Ignaz Wanders discusses service versioning, compatibility issues, and how to implement the governing process of service versioning.
47:55
Followers
Scott Chacon explains the internal mechanisms used by Git to do version control based on three trees –head, index, work–, and some of its commands, especially 'reset'.
01:00:10
Followers
Greg Young discusses how to use events to store data, and how testing, versioning and performance are impacted by an event-centered model.