Presentations
01:20:51
Development
Development
Follow
779 Followers
Austin Bingham answers questions on reviews: how long should they be, what should be reviewed, how do reviews account for an increase in quality and ROI?
01:21:47
Big Data
Big Data
Follow
155 Followers
Felienne Hermans presents various algorithms that outlining the power of Excel, showing that spreadsheets are fit for TDD and rapid prototyping.
01:06:38
Culture & Methods
Culture & Methods
Follow
881 Followers
Alison Lloyd examines some less-than-stellar occurrences in non-software fields, drawing out some ideas that she hopes will make software development a little less painful.
01:10:33
Functional Programming
Functional Programming
Follow
158 Followers
Detlef Vollmann explores the performance and scalability issues of atomic and possible solutions to overcome them.
01:29:03
Followers
Peter Sommerlad covers compile-time computations available in C++14: constexpr functions and constants, literal types, variable templates, variadic templates and what can be expected in the future.
01:38:02
Followers
Kevlin Henney discusses unscalable tests, tricks and tips that make tests more specification-like and scalable to large codebases, and choosing between scenario-based and property-based test cases.
53:38
Followers
Axel Naumann introduces the use of C++ for storing and analyzing petabytes of C++ objects at CERN, and more generally in High Energy Physics.
01:24:53
Followers
Hubert Matthews describes some of the problems encountered in multithreading and discusses how to avoid them through appropriate design choices.
01:32:57
.NET
.NET
Follow
458 Followers
Guy Davidson, Tom Miles discuss 64-bit programming pitfalls, Unity builds, writing portable code, and persuading a large development team of varying levels of skill to write portable code as well.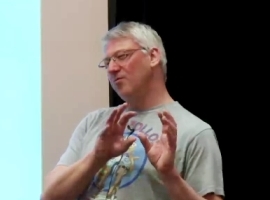 01:00:35
Followers
Chris Oldwood takes a look at a variety of both command-line and GUI tools - build automation, testing and support - that have proved to be useful to the speaker time-and-time again.
59:51
Followers
Pete Goodliffe keynotes on what it takes to become a better programmer, discussing tools for reviewing the personal skillset and techniques to help one "become a better programmer".