Presentations
50:47
JavaScript
JavaScript
Follow
430 Followers
Kevin Grossnicklaus discusses how to get started with WebPack, how to configure Visual Studio for it and some of the best practices for utilizing it with Angular2 or React.
01:05:01
JavaScript
JavaScript
Follow
430 Followers
Sergi Almar talks about the Angular2 architecture and how TypeScript allows us to build more maintainable and clean applications having the benefits of a typed language.
55:27
JavaScript
JavaScript
Follow
430 Followers
Jon Harding discusses design patterns and best practices to create scalable applications, build processes to prepare for production and tips to prepare for transitioning to Angular 2.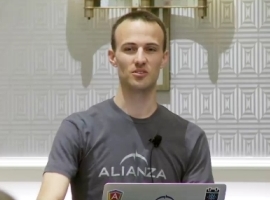 57:09
JavaScript
JavaScript
Follow
430 Followers
Kent Dodds live codes an application using the pre-release alpha version of Angular 2.