Key Takeaways
Working in distributed teams requires remote ecosystem in place that enables an efficient communication.
Ensuring a safe decision-making environment for all employees is a must in a self-managed company.
Mutual trust can be cultivated both by delegating responsibility and spending quality time together.
Letting ordinary employees propose an idea and then implement it, to jointly shape the company's future, results in a low rotation indicator.
A flat and transparent business model translates directly into clients' happiness and a company's growth.
Self-managed companies are emerging as a viable option for the future of work. The transformation from standard hierarchical organisation to a flat structure is definitely beneficial, but obviously a challenging process. We did it in SoftwareMill, a Polish software house, five years ago. It was possible because of our well-organised team, mutual trust and the confidence in success we share.
In this article you'll learn:
about a secret sauce of our unique company culture
how can we be flat and remote at the same time
about the challenges we had to face at the beginning of transformation
how we improved decision making process
about the benefits of being a self-managed company
Back in 2013, my business partners and I decided to make a big move and change the way our company was operating. We wanted to ensure that our whole team would always be capable of making independent decisions. We thought if everyone in our organisation was aware of all of the company's decisions and processes, SoftwareMill could nurture their talent and gain a competitive advantage. We introduced a flat structure along with full transparency (including finance matters). We went all the way and decided not to hire managers at all. As a result, we're a company of 40 CEOs. So there is no place for secrets.
SoftwareMill's unique company culture
Company management is a derivative of its organizational culture. The values we all share have a strong influence on team behavior as well as company performance. SoftwareMill is significantly different from the traditional organizational structures. There are three main standards that distinguish us from other companies:
Remote work and distributed teams - SoftwareMill has no headquarters, nor company offices. All of our team members, including the back office, work from their home offices or coworking spaces. We believe that you don't need a physical office to be successful. We are much more productive once each of us organizes their work in a way that suits them most. What we care most about is the end-result of the project, not whether the team is in the same room together.
This approach helps us a lot in cooperating with our clients, 90% of who come from abroad. We've been a distributed company since day one. As a result, we have an efficient remote ecosystem in place. It's tested on a daily basis and much appreciated by our clients, who value the job we do and the relationship we have.
Being fully remote lets us hire the best talent, wherever they are, because we are not limited to a local labour market. There is a high demand for software engineers in Poland so SoftwareMill has a huge advantage. We have great talent from all over Poland. All of our team members are fluent in English, so as to be able to communicate effectively with clients. However, within the company we use our native language - Polish.
You might ask, how do we keep the team motivated and engaged in a remote ecosystem? We came up with solutions to stay in touch and build up trust. We hold a daily integration stand-up meeting with all team members. When you work in an office, do you talk with all your team members every day as we do? Moreover, we invest the money saved on "office expenses" in monthly company meetings. Each month we get together in one of Poland's cities to work together on company matters, or have hackathons, and - more importantly - have some fun together.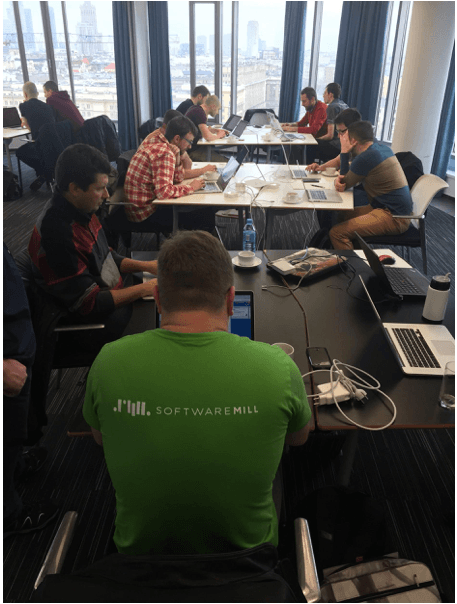 Each month we get together in one of Poland's cities to work together on company matters, or have hackathons
As we don't have any offices; we try to meet every time in a different location. Our monthly meetings are often held in towns where our teammates come from. Each of us has an opportunity to be a host and show the best of their region. Just to give an example: we visited a coal mine close to Katowice, had a Karate class in Kielce, wine tasting in Zielona Góra, and flew over Elbląg in a tiny plane to visit Bialowieza National Park, which has the only primordial forest in the whole of Europe. There wouldn't be a need, nor money, to travel all over Poland for a one-day meeting if we were working from the same city.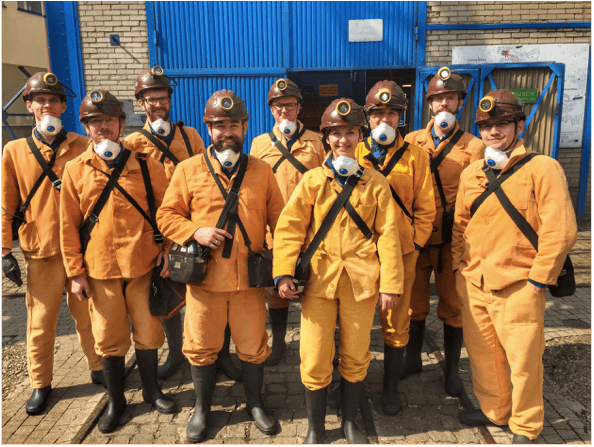 We visited a coal mine close to Katowice
So you may ask, do our team members stay in SoftwareMill? Yes. Our rotation indicator is significantly low - 5% yearly with two people per year in a 40 person team. Changing from one remote job to another one is significantly easier than changing your office job. One day you will just be talking to other team members, while sitting in the same home office as before. So we are very proud of the system we have put in place to keep our company together and our employees engaged and satisfied.
Flat structure (teal organization) - as I mentioned before, our case is extreme- SoftwareMill doesn't hire a single dedicated manager. Our project teams are self-managed and communicate directly with their clients. The company is also self-managed. Thanks to this, decisions are made quicker and by the people who have the best knowledge in a given matter. We describe our organization structure as a company of 40 CEOs.
Working in a flat organization was challenging in the beginning, as we were all used to hierarchical structure - where you constantly ask your manager for permission and have hardly any influence on company strategy and development. After some time we all learned how to make decisions in the new environment. Now we work together efficiently, exchange ideas and work out solutions. SoftwareMill, apart from its business purpose of providing clients with high-end business solutions, strives to maintain the status of a workplace of personal fulfillment and growth.
Full transparency - There are no secrets at SoftwareMill. Everyone in our team has full access to the company's financial books, knows how much other employees earn and participates in making strategic decisions. We decided to be fully transparent to enable everyone to make important decisions. Each one of us had to adapt to the new reality and take part in managing and making decisions. At the beginning, this was a bit problematic, but we got through it, as I explained before. Our standard does not always fit what people are used to, so sometimes we have to demonstrate some patience when introducing a new CEO. We pay close attention to our hiring process and make sure that each and every new hire has the skill set necessary to make independent decisions and to take responsibility for it. The result? There is no gossip in terms of the company's condition, new clients, projects, direction of action – it's all out in the open. It teaches all of us rational time management and constitutes a driving force for innovative solutions.
The challenges with decision-making we had to overcome after going flat
In the first six months after introducing flat structure and full transparency, we had to deal with micromanagement that caused decision-making problems. No one from our team had ever worked in a company with a similar organizational culture before. We all had to learn how to deal with such an unusual situation. We didn't want to make any list of procedures; the main goal was to share responsibility and create a company culture where employees care about their work and the company's well-being. We all wanted to instinctively make the right decisions.
To overcome the struggle of new-beginners of teal (actually, at that time no one knew what teal organization was), we identified key blockers of the decision making process, and worked towards removing them. We noticed that in some cases the whole company was involved in discussions on a given matter. It should not work this way. Ensuring a safe decision-making environment for all employees became a priority.
We aimed to overcome the initial and natural lack of willingness to make difficult, often strategic, decisions, which leads to increased pressure and risk of conflicts. The same with micromanagement and over-consultations. Our decision-making process was too long and sometimes conclusions were never reached. We wanted people to accept responsibility for their own decisions and avoid doubting other people working on resolving problems, whether or not the solution they propose is the best one.
We've set up three action points that help us overcome initial problems with decision-making:
We created a company culture which promotes independent decision-making. We continue to underline that each member of the team is a CEO. New people in our team are reminded about what being a CEO means. We created a brief internal training for them, in which other team members can share their experience while the new CEO faces the challenge of making their first decisions.
We adopted a simple rule: advice = commitment. As a result, we managed to reduce the tendencies to over-advise without being truly engaged in resolving problems. We think that unproductively extending the decision-making process is a bigger risk than reducing the amount of active participants; especially if those participants demonstrate actual involvement.
Working groups – this is our solution for more complex and strategic decisions. Working groups are joined by people interested and skilled in a given subject, ones in which they feel they can efficiently work on identifying the problem, discussing the solutions, to finally present the solution to the entire team. Then we have a few days to make some final adjustments. When a decision gets approved and is voted on by the majority, it's implemented and recorded in our decision registry. This way, decisions on issues as new directions of development, payroll system or R&D investment projects are made. Since 2013, when flat organization was introduced, we have made 28 such decisions.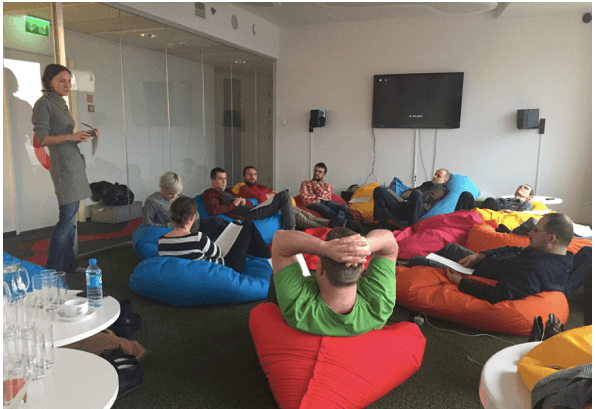 Working groups
Last year, during Agile by Example 2017 conference, I gave a talk about how we solved our initial problems out. You can watch my talk included in this short blog post: "No managers in a company - 3 ways of decision making".
The benefits of being a self-managed company
It's hard to list all of them but these are the most important for us:
we are agile - we can get to better, faster decision-making by being a self-managed company. Our decisions are made by people who know the problem best and who volunteered to take responsibility for a given subject.
we are motivated - we use open allocation and our employees can move between teams at will. We also pay great attention to the atmosphere and trust in our company. We spend time together outside work and simply like each other.
we have a low rotation indicator - our team members are CEOs so they feel they have an influence on the company's strategy. This gives everyone a sense of purpose and prevents people looking for a different job.
we have happy clients - our project teams are involved and deliver, they know clients' needs best, and assist them if necessary. That translates directly into reviews we get from our customers.
My advice for organizations that want to become self-managed
Set a long-term goal for the company that is consistent with the needs of your employees. SoftwareMill's goal is to create the best place to work for software engineers, because thanks to this we will employ the best software engineers and, consequently, we'll deliver high quality software development services along with clean and tested code.
Instead of delegating tasks, delegate responsibility. Make your team members responsible for making decisions within their area of competence.
Trust and support your team and make your decisions transparent. Let them learn from you.
About the Author

Jan Zborowski, co-founder and business developer at SoftwareMill. SoftwareMill has a unique organizational culture: the team is remote and distributed, the organization structure is flat with no managers at all, and the company is totally transparent (including in matters of finance).